The United States, the United Kingdom and Australia, a military alliance known as AUCUS, have reached an agreement of great military and geopolitical importance. The three will cooperate over the next two decades to build a new type of nuclear submarine that will be used in their respective navies and that they hope will enhance the group's deterrence in the Asia-Pacific against China's modernization of its fleet. It is the most concrete step yet taken to pool their military strategies and capabilities in Asia for the forced march, the stated objective of the three governments when they launched their Entente in September 2021.
The announcement came at a trilateral summit in California on Monday between United States President Joe Biden, British Prime Minister Rishi Sunak and Australian government premier Anthony Albanese, who planned among their tasks for the day from a base in San Diego. Go to Navy. The three countries seek to integrate knowledge, information and strategies in various fields ranging from hypersonic missiles to artificial intelligence.
"Our allies and our submarine capabilities are two unique advantages that the United States has. It is an extraordinary way of harnessing them to ensure security and stability in the Indo-Pacific and deliver a deterrent message," a senior US official told on condition of anonymity.
In a sign of the "serious and important" of the agreement, as described by another source in the US administration on condition of anonymity, and how far the Biden government is willing to go to strengthen alliances in the Asia-Pacific, the agreement Includes the transfer of US nuclear technology to Australia. Washington has taken this step for the first time in 65 years; In 1958 he provided part of his knowledge to the United Kingdom so that London could develop its own nuclear submarine programme.
Another senior US official insisted, "This is a once-in-a-generation opportunity." The agreement will be developed in three phases, as he explained: "Australia's submarine capabilities and our joint deterrence posture will be enhanced with each phase to promote security in the Indo-Pacific region." Nuclear-powered ships of this type, along with aircraft carriers, are the jewel in the crown of the most powerful navies: they are more difficult to detect, do not require refueling, can stay submerged for longer periods of time, and are more powerful than conventional ships. Can cover longer distances. The ones.
The first phase is already underway. British and American submarines will visit Australia for a training exercise. Australian sailors will join the crews of those ships from the United Kingdom and the United States and attend courses on nuclear power taught by both countries. Australian workers will continue to be present in shipyards that build these types of ships and from now on, Canberra will start building its own facilities for the production and accommodation of the new ships as well as those of its two partners. The US-UK submarine force will be established by 2027 and will be based in Australia. According to US administration sources, "This rotating force will boost deterrence in the Indo-Pacific, with more submarines from both countries."
Join EL PAÍS to follow all the news and read without limits.
subscribe
The second phase will be launched in the early 2030s, when Canberra plans to retire its aging fleet of diesel submarines. Until then, and in parallel with the development of the new vessel, Australia will purchase three Virginia-class nuclear submarines from the United States, which are already under construction, with the possibility of acquiring the other two. A remarkable investment: each of these ships cost $3.5 billion. (unos 3.260 million de euros) or more than 10% of the current Australian defense budget.
The end of that decade would see phase three: construction of the new submarine, SSN Aucus. The vessel would be based on British designs, that of its new attack submarine, the now-discarded SSN R, and would use advanced Virginia model technology. All three countries will contribute components, but that ship will be assembled in British and Australian shipyards. London will add it to its fleet before 2040; Australia, which has to start from scratch to develop its industrial base to build that giant, will join it later that year.
The project won't be cheap: development of the Virginia SSN has already been plagued by constraints and their costs have exceeded initial estimates. In this case, the United States plans to allocate 4.6 billion dollars for the production and maintenance of its industrial base for the construction of these ships. Australia will make a "substantial contribution", according to senior US officials, who also highlight the opportunity to modernize its own industrial base in a highly specialized sector. The war in Ukraine has "further underlined the need to invest" in this productive defense fabric.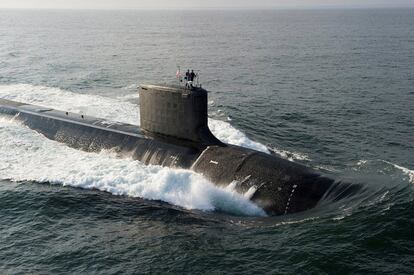 The announcement is part of a whole series of initiatives and diplomatic contacts by the United States to strengthen its military presence in Asia. Its bigger concern is its systemic rival China, which already has a fleet larger than the world's leading power and is rapidly building new ships. "We need a bigger Navy, we need more ships in the future, especially more modern ships that can respond to threats," Carlos del Toro, assistant secretary of the Navy, warned last month. But, apart from this, he keeps an eye on the activities of North Korea and Russia.
In recent months, the Pentagon has already agreed to send more troops and equipment to Philippine military bases and help Japan modernize its armed forces, as the country with a pacifist constitution slashes its defense budget. It has been decided to strengthen and give a more active role to it. Its soldiers were also inspired, at least in part, by the rising Chinese power. Next month, Biden plans to receive his counterpart, Yoon Suk-yeol, in South Korea, where the United States keeps about 30,000 military personnel stationed at the White House.
The Aukas alliance started a year and a half ago with the controversy over submarines. When announcing the group's formation, Australia announced it was canceling an agreement it had then signed with France to buy diesel-powered submarines from the European country. Then, the government of President Emmanuel Macron described the gesture as a "betrayal".
Follow all international notifications Facebook And Twitteror in our weekly newsletter,
Subscribe to continue reading
read without limits