Magic and witchcraft are not the same thing. This is the first thing that OKK Dako wants to make clear: they are not about cursing and harming others. Although by proxy, they could accept. There is wisdom, but if a magician master dared to use it, he would be expelled from the community and his credibility, prestige and livelihood would be taken away. Dako Akodeseva is one of the official guides to the Fetish Market, which is open Monday through Sunday from 8:30am to 6pm. It is located in Togo's capital, Lomé, and is managed entirely by families of Beninese origin. "Voodoo has two faces: a negative and a positive, like everything in life. The good and bad of helping is the sorcery you see in Hollywood movies. People call that magic, but it's witchcraft. We only use magic to help."
The Fetish Market is the largest voodoo market in West Africa, which boasts this man, the heir to the lineage of priests or traditional healers. This particular supermarket is said to have been around since the 17th century, and that it also holds 20,000 items, but it is difficult to contrast the two extremes. What is certain is that it still remains open as one of the epicenters of animism. "Animists are people who believe in the miracle of God," clarifies Dako. And it is in Togo and not in Benin that this religion is practiced, for one simple reason: "We are the same people because Benin and Togo were one country. It was the colonists who came to divide the country and draw new borders," he says. Animism is a group of religious beliefs that share the idea that everything that exists in the world, from animals, plants, and humans to inanimate objects and landscapes, has its own consciousness.
Paying 5,000 CFA Francs (7.5 Euros) for a ticket that entitles you to take photographs and take a guided tour of dead animals and exotic herbs. Dako or any of those who wear green robes – everything is very official here – offer the visitor a journey through the world of animism. It was believed to be the only one in Africa prior to European colonization, but Islam, Christianity and the new Pentecostal and Evangelical trends steal their faithful. Although the figures are out of date. The latest estimates, from the University of Lomé, are from 2009, and calculated that of the population of 8.2 million Togolese, 43.7% were Christians, 35.6% Animists, 14% Sunni Muslims and 5% adhered to other streams.
On the other hand, COVID-19 and restrictions on its movement have significantly reduced tourist visits. Both circumstances deplete the income of twenty families who live by caring for the spiritual needs of their faithful and presenting the peculiarities of their religion to strangers. On an average 30 tourists came to the market on Achhe Din. "With the pandemic it has gone down a lot; We had 12″ yesterday, compares Dako.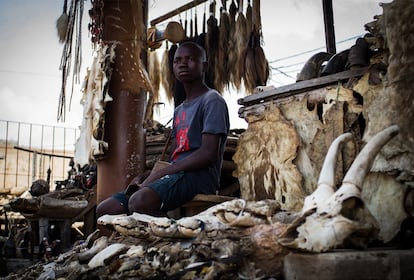 For believers, a fetish market is like a pharmacy. But instead of anti-inflammatories and antibiotics, stuffed animals are sold here whole or in pieces: the heads of primates, bats, chameleons, birds, snakes, horsetails… even an armadillo. The pieces are displayed in precarious stalls made of irregular wooden planks, usually a bit dusty, and always very crowded against each other.
Be careful: they cannot be achieved by any means, but by following logic: it is the Voodoo Priest who goes when the problem occurs. "70 years ago, in Africa, our grandparents' house was like a hospital. When you get sick, the first thing you need to do is go to the Voodoo priest and after giving him your name, he will consult so that the oracle will know what has happened. Afterwards, he will write down the animals he needs on a piece of paper; You go, buy them and give them. These ingredients make a powder that can be mixed with perfume, talc or soap. It is poured into a cup, water is added and it is given as medicine", describes Dako.
The guide warns that specimens appearing on the market have not been slaughtered for sale. "We buy them dead already in Benin, Ghana and Nigeria, and here in Togo we have local hunters going into the wild and looking for specimens to bring back here." According to the guide, the first thing to do with them is to open it, remove the guts and put in antibiotic foliar and other disinfectant treatments, as it is impossible to know if that animal has died of a disease, and all precautions are short. . "It's like a mummification," he compares.
Voodoo priests can also create amulets that, with the right spells, can provide a variety of protection (accidents, toxic people, the evil eye, financial problems…) and help improve aspects of life, such as Enhancing the ability to remember. There are also the famous Voodoo dolls, which here are very rudimentary wooden figures representing both men and women. They are similar, and they differ only in that the man has a penis and the woman has breasts. Initially, it's just a piece of wood, but the priest can use it to heal from afar, just like in ancient telemedicine.
describes the daco modus operandi: "For example, if you live in Madrid, and you feel bad, but you can not come to Togo to see the priest, you can tell him what the problem is, you send him money and he Will buy material. At night, the priest will ask you to go to bed and your spirit will leave your body. From Togo, the priest will initiate a ceremony to summon your spirit, which will leave your body. Your body remains in Madrid, but your soul will travel to Togo and enter the statue. When your spirit is in, the priest will perform the ceremony with the doll and heal you; Then the soul will return to your body."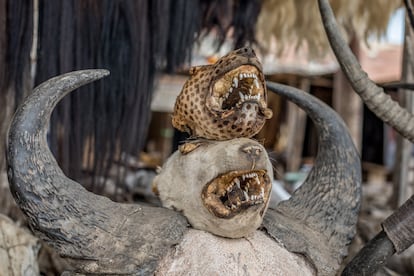 The community regrets that they have less and less faithful as they decide to profess other religions. However, in many cases, they continue to practice animism in secret. "Some people are hypocrites because they go to church and present themselves as Muslim or Christian, but then continue to practice in secret. They feel ashamed because witchcraft is practiced in the church; The priest and the imam forbid you from following two religions", analyzes the guide.
These underground faithful do not allow themselves to be seen in traditional ceremonies, but they continue to resort to magic. How? By Phone: The guide makes sure that those who are embarrassed to show up in the market, call to ask for what they need. Even measures against COVID-19, as seen in other parts of the world. But Dako recalls at this point in the conversation that voodoo is a remedy for ailments of the soul, not physical ones: "We have a modern hospital today. People go straight to the doctor in the hospital when they get sick. Our remedies are spiritual, and only Voodoo priests can help you. If you have faith, you will be healed."