In the middle of the night in late March 2022, guards at Simferopol Pretrial Detention Center No. 1 in Russian-occupied Ukraine woke up Alexander Tarasov and Sergei Tsigipa, two activists accused of organizing protests against the invasion of Ukraine in Kherson Area. "does anyone speak Spanish?" they ask. Neither of them knows the language, but Tsigipa knows some Portuguese. They ask him to help pacify a prisoner recently brought from Kherson. He is Mariano García Calatayud, a 75 year old retiree from Carlet (Valencia), living in Ukraine since 2014. According to his fellow captives, the Spaniard was in shock. He could not understand the screams of the jailers. "He looked like a hunted animal," he says. And they recount the nightmare of torture to which he was allegedly subjected. He got electric shocks because he didn't understand the commands given until he learned to follow the most basic commands. According to the lawyer defending him, the jailers confiscated his medication for his heart condition. According to Ukrainian activists, one of his guards once said, "I've given Spanish a few slaps, I've taught them Russian." The Spanish Foreign Ministry has assured that he is in contact with his family.
García Calatayud is one of thousands of Ukrainian citizens and other nationalities detained by Moscow's special forces since the start of the Russian invasion of Ukraine. Volunteers, journalists, ex-soldiers and civil servants have been moved out of the occupied territories and many of them are in solitary confinement in Russian penal colonies and pre-trial detention centres. They do not have prisoner of war status; Their lawyers and relatives are not allowed to enter and it is impossible to contact them in most cases. Even those who managed to break out of prison sometimes do not know why they were detained or why they were released. In Simferopol detention centers alone, in Russia-annexed Crimea, there are over 100 civilians who receive systematic abuse. Beatings, electric shocks, strangulation or torture with dogs are some of the torture, according to an investigation. Russian independent media jellyfish, located in latvia, Based on the statements of some of the released prisoners.
Calatayud, who does not speak Russian or Ukrainian, celebrated his 75th birthday at Simferopol's No. 2 pretrial detention center. "He kept calling for the doctor in Spanish," remembers prisoner Tarasov, who was in the next cell. "Sometimes the doctor comes only after a week," he adds. During his captivity, he learned a few Russian words, but occasionally spoke in Spanish thanks to taking a bath. "Exactly, Mister Commander!" He said after being able to clear the guards. No interpreter attended his questioning. Neither at the detention center where he was held, nor at the local branch of the FSB, the Russian secret service, where he was occasionally taken to take his statements. "When they took us into the building, an FSB officer said at the door: 'Mario! (As Mariano is known in Ukraine) He is a fascist!' "At the detention center they beat him," recalls his fellow inmate, Yevgeny Yamakovoi. "I saw marks on him from a machine and once a dog grabbed his leg. He hit her on the head with his fist when she bled out of him," he adds.
Tatiana Marina, 39, lives in Kherson and is the wife of Garcia Calatayud. She says that before his arrest her husband was very combative with the Russian security forces. "Even in the Kherson temporary detention center, when he was arrested for protests, he didn't stop shouting 'Glory to Ukraine'!" she tells. "Mario's guards were stunned." A Spanish prisoner's wife says she moved to Ukraine in 2014 to provide humanitarian aid to orphanages near the front line in Donbass. "I couldn't put up with that injustice. He had worked on the Valencia City Council, but he was already retired and wanted to come to help fix the situation. She now wonders how he lives in such a place. "He is a great lover of freedom, who likes to take deep breaths how can he be in a cage?", she asks herself.
Garcia Calatayud is not the only foreigner detained at the Simferopol Preventive Detention Center. In early November 2022, French citizen Andreas Blazczak left a town near Kherson for Crimea, where he had fled after the invasion, with the intention of joining his Ukrainian wife in Germany. But at a checkpoint in the city of Armiansk, on a peninsula already annexed by Russia, he was detained by FSB officers, he tells jellyfish Lawyer Anatoly Fursov. He spent 68 days at the Russian facility. Belarusian Ales Malyarchuk, who moved to Ukraine to work, also spent several months held by Russian jailers in Simferopol. He was taken to the penal colony with a bag on his head. "They told me he was a spy and had to sign a confession… I refused. Then they started beating me badly and giving me electric shocks", she told in a videoconference. "He broke my teeth."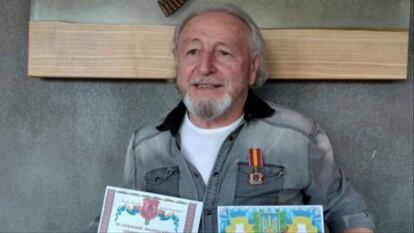 Join EL PAÍS to follow all the news and read without limits.
subscribe
victory Day
Morning of May 9th, 2022. Victory Day, a Russian national holiday commemorating the defeat of Nazi Germany by the USSR. Activist Alexander Tarasov, a prisoner at the Russian Pretrial Detention Center No. 1, hears special members of the Russian Federal Penitentiary Service shout from behind the cell door: "Line up! Head down, get out! Running, I said!" The five prisoners lowered their heads in a remembered movement and hid their hands behind their backs. Since then, Tarasov sees only the ground, his feet and special forces boots. Leaning down, in that pose, he leaves the cell and stands facing the wall. "More arched! Legs apart, I already told you!" One of his jailers screams as he kicks the worker on the calves until the prisoner is practically lying with his legs spread.
Leaning his head against the wall and thinking only about torn ligaments, Tarasov listens to new questions from the members of that particular corps: "What holiday is it today? What holiday is it today? did your grandfather fight Answer!". No matter what the answer, each of the cellmates is shocked by a stun gun: "Fascists' grandparents are turning over in their graves." Hours later, new control in the dungeon. The guards reappear with tasers. One of them grabs a dog that runs towards the prisoners until it pulls the chain, Tarasov recalls. This time authorities say his cellmate is a member of the far-right Ukrainian group Privi Sector. "They beat him by surprise and demanded that he sing that Soviet Victory Day song," Tarasov recalls. Knee to stomach. "Let's sing!". Tarasov remembers how he began the anthem in a brittle, trembling voice; A voice that was not like his own voice. until he got confused by the song's lyrics and got an electric shock.
After his arrest, Tarasov was tortured. They put electrodes in his ears and shocked him further, demanding the names of other organizers of the anti-Russian demonstrations in Kherson. "The FSB officer came over to put a gun to my temple and said: 'It looks like you're screwing with me.' And he took out the gun, "he recalls. "It was not clear whether he would pull the trigger." They demanded that he record a video message along with his confession. "I was forced to say that the protests were organized by the Security Service of Ukraine with the aim of bloodshed the Russian military and discredited them in the international community," he continues. "They threatened to do the same to my mother and my son." "They turned us into corner animals," he says
reeducate prisoners
according to the sources jellyfishThe Ukrainians' resistance to the Russian invasion greatly surprised the center's staff, so they tried to re-educate the detainees. For example, he lied to them by assuring them that Kremlin troops had captured Odessa and Poltava, which were never under Moscow's control. In September 2022, after the Russian accession referendum held in Kherson and other territories held by officials loyal to Moscow, the director of the facility began his morning check-in by saying: "Congratulations! You are now a citizen of the Russian Federation." Some of the prisoners were offered citizenship, according to former Russian prisoner and lawyer Alexei Ladin, who represents the interests of many of his former colleagues. "They were forced to learn the national anthem and the oath," says the lawyer.
In October 2022, all Ukrainian detainees were transferred from No. 1 Pretrial Detention Center in Simferopol itself to the newly opened No. 2. three ex-prisoners told jellyfish that there was such a rush to open the new premises that, when the relocation took place, the work had not been completed. According to Tarasov, Russian officials painted the windows to keep out natural light. The new facility had artificial lighting 24 hours a day, while internal regulations and the Russian anthem were periodically heard over the public address system. Prisoners are not allowed to sit or lie on the bunks from six o'clock in the morning until the lights go out. Lawyers are forbidden access to the interns and only get some information about their clients from those who manage to get out.
Follow all international notifications Facebook And Twitteror in our weekly newsletter,
75% off
Subscribe to continue reading
read without limits