Three euros and 50 cents. The figure marks the most important moment for Gintas and Dovey. "It was a Friday. We entered the bank account and we only had 3.50 euros. We needed a bottle of wine, but with that budget we had to work with a bag of chips. This Lithuanian couple is the owners of Savas, a cocktail bar in the Lavapi neighborhood in leather, velvet, smoke-and-noiseless. In fact, the place bears more resemblance to an autopsy room than a scene from an episode. Mad Man. "We both come from classic restaurants, so we wanted a quiet place where people could have cocktails without rushing", he remarks. And that he did in July 2019, 9 months before the alarm condition and 17 before his bank account became zero.
But Savas originated in 2008 and had a happy ending. That year Gintautas Arlauskas (Gintas) and Dovile Krauzante (Dovi) landed in Madrid from Lithuania, rented a flat on the Calle de Mallorca in Lavapiés, and began working in the hospitality sector. For years they were part of the most famous restaurants in the capital such as Sudestada or Punto MX, they became acquainted with local concepts such as "Jotabe with cola" or "Vellabel with ice", and when they understood the business they were about. Thought how to open my own. Their plan: A cool place with the best cocktails in the neighborhood. The result: the best cocktail bar in Madrid. The award was presented several months ago by the Gastronomic Academy of Madrid in the Bars and Drinks category. "It's a very special recognition because the jury is the bartender themselves," explains Gintas.
Savas is located in the center of Lavapiés and if possible its clientele is even more eclectic than the neighborhood. "Look, this Monday, at midnight, there were five men in suits. On the other side of the mirror are dustbins full of garbage, neighbors walking their dogs, and police sirens. I love that contrast," Dovey says. Word of mouth among professionals in the business and positive reviews on social networks and specialty magazines have made Savas a fashionable place, but at the same time this cocktail bar is a reflection of the neighborhood in miniature. "We have very loyal customers. After confinement, eager to see couples who had broken up during the pandemic, neighbors who had become pregnant and came to show us their babies and promised us they would come back for cocktails as soon as possible, those who had left the neighborhood and moved to the countryside… In fact, there are hardly any of Savas' first customers left, but Lavapis is still a neighborhood", says Gintas.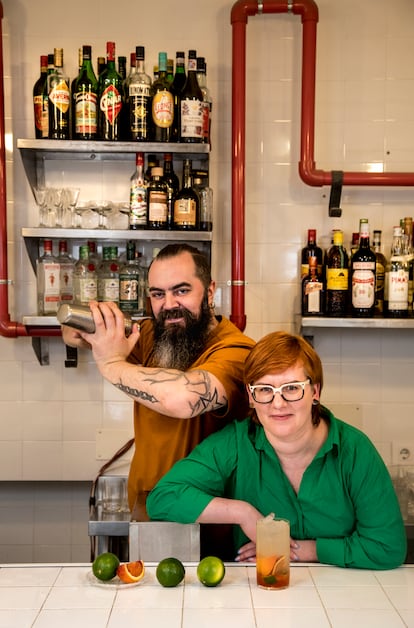 There is a letter printed on the wall to the left of the bar. It's a small selection of 12 cocktails to think about, but the real magic is off the menu. Specifically, in the head of Gintas. "I like to improvise. If anyone likes a touch of spicy and acid, here I go. Of course, if there are five people at a table, it is appreciated that at least two repeats," he jokes. He automatically sees Dovey, his wife, and is responsible for making customers feel comfortable. "The ideal scenario is a table of six people with the same cocktail and six different rounds," says Gintas, whose head doesn't stop. Among other ideas, he thinks about how to bring flavor from Lithuania to savas, and that includes honey and cucumber. "Those two elements are involved in the childhood of any Lithuanian child."
Gintas promises 0% hangover if you drink it in moderation and in 100% flavor. "It's a compliment when someone comes back the next day to tell you they've woken up without a headache. We serve good wine and in sensible quantities. We don't want customers to get drunk, we want them to enjoy it." Their headache is also gone after the recovery of the post-pandemic normalcy: they are already thinking about how to grow and have enough euros in their account to buy a nice bottle of wine.