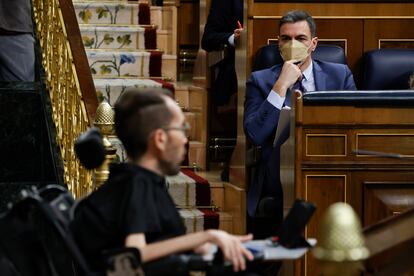 The optimistic version is that measures approved by the government on Tuesday to reduce price hikes have closed many gaps among coalition partners. The pessimist may find himself engrossed in what happened at the Congress of Deputies this week: separate votes by PSOE and United We Can (UP) or a change in policy regarding Western Sahara, or socialists to guarantee a place Strong discrepancies on issues like Prayas sacked public prosecutors in Supreme Court. Which of the two versions to stick with then? Its actors are already clinging, assuring they all want to "take care of the alliance" and that there is no particular tension between them at the moment in Parliament. However, sport does not please everyone equally. UP is comfortable airing their differences. The socialists would prefer to send him out of reach of the limelight.
In the two months of the current Congress session since the beginning of February, allies in the government have put themselves in a different position by 17 votes. Although none affected the legislative projects of Pedro Sánchez's cabinet, they have revealed divergence of opinion on very relevant issues: taxation, energy policy, management of minimum critical income, prosecution of Franco regime crimes or permanent prison. reviewable. United We Can spokesman Pablo Ichenic says this is no surprise: "There hasn't been a coalition government in 40 years and the first thing when these things happened was a scandal. No more, it's normalized. Because it is common in government alliances in all countries. We have things in common, but we are different political forces and sometimes we defend different positions. It should be considered naturally and managed with loyalty".
Ichénik outlines his good relations with socialist spokesman Hector Gómez, who confirms this, although he clarifies that he would prefer to resolve some issues privately so that differences are less visible: "We are more in a coalition government. Want more maturity. The group we make of it We are different, true, it's logical that we don't always think alike, but it's good to try to iron out differences internally. I think this is the best way to strengthen the alliance."
The movement of the socialist part of the government still stings without informing its allies. And this week United we can again complain that the PSOE had not informed them by law of their attempt to guarantee a place on the Supreme Court by the time current State Attorney General Dolores Delgado stepped down. PSOE has resorted to a maneuver questioned by almost all others: an amendment to a law completely unrelated to the issue, which would govern bankruptcy procedures of companies. Prominent voices of UP privately accuse PSOE of ignoring them on key issues. Ichenic prefers to reconcile: "They didn't inform us and we don't like it, but it's true that other times – though less – we haven't even warned them. There was a certain asymmetry in this at first, as PSOE took its initiative, but it seemed wrong that we did. It is being fixed."
An example of a peacefully resolved deviance occurred last Tuesday, when the socialists joined an initiative by the PP and Ciudadanos to increase the number of cases in which reviewable permanent prison was implemented, rejected by the UP. Was. PSOE previously informed its allies, they accepted the explanations, although they shared them, and the two voted separately without any public conflict.
There is a clear underlying discrepancy in the parliamentary strategies of the coalition partners. UP has always insisted on relying on the so-called investment bloc-leftists and nationalists, while PSOE has never given up on demanding other compromises on the right. It's so-called "variable geometry," a gamble fraught with risks, as the soap opera episode of Labor Reform demonstrated and Gomez herself admits: "We talk to all groups to get as much support as possible. Do it. But it is not easy, we all see the destructive attitude of the right wing. The majority in the Congress is there, and there is nothing else."
The one who impresses the most is the closest. In order not to miss anything, subscribe.
to subscribe
Staying in alliance is a race for setbacks and an enduring test. Next week will be one of the toughest. UP has agreed a text with the ERC and EH Buildu to allow Congress to ratify its adherence to the UN doctrine on the Sahara. No problem so far, Samajwadi is ready to support it. What happens is that the motion is accompanied by a text that condemns the position adopted by "a part of the government". Gomez is convinced that the authority will support her to try to "fracture" the executive and expose him. The partners have not spoken yet. And it cannot be dismissed as just another simple infidelity.