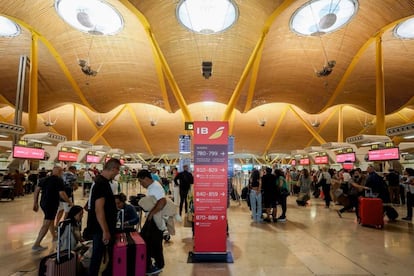 The days of the most recurring nuisance of flying passengers are numbered. By 2024, passengers at Spanish airports will no longer be required to remove liquids or electronic devices from their hand luggage at entry control. ANA is going to implement new scanners with X-ray technology at security controls that generate a 3D image that facilitates baggage inspection without the need to store liquids in plastic bags or remove electronic devices and valuables Saves passenger time.
To do this, ANA will hold several tenders this year for the acquisition of new equipment, which could become operational by the end of 2023 or the first half of 2024. New technology filters will be installed first. Madrid–Barajas and Barcelona–El Prat, which concentrate 40% of passenger traffic. At the end of 2024, it will be implemented in Palma de Mallorca, and then it will be installed in the rest of the airports in the ANA network, official sources familiar with the project told EL PAÍS.
The measure is part of a global project to modernize security filters at Spanish airports managed by ANA, which will also include automated lanes for handling hand luggage (ATRS), remote inspection systems (Distant), the deployment of biometric controls for access and a new hold baggage inspection system.
high resolution images
The new scanners use a technology called EDSCB (Automated Explosive Detection System for Cabin Baggage) via X-ray for computed tomography, which generates high-resolution volumetric 3D images, which improves baggage inspection, automates Supplements operator's visual inspection with object recognition and minimizes misoperation. Alarm.
The new controls will improve both safety and passenger convenience. Not only will you have to remove liquids or electronic devices from your hand luggage, reducing the use of trays, but also the 100ml liquid maximum restriction in place at all European airports since 2006 has been removed. Passengers may carry toiletries such as cologne, cream or makeup in a medium or family size. As well as small bottles of water or soft drinks. This measure will reduce waiting times by easing queues and will also benefit airlines, who in many cases have to wait due to delays in control of passengers or have to do so by handing their luggage down the hold . not reach on time
Scanners with this technology are already being trialled at London's Heathrow, Gatwick and Stansted airports, and the British government has announced it will change security rules to have them operational by 2024. The United States Transportation Security Administration (TSA) has also tested the new one. devices in fifteen airports including Los Angeles, Oakland, San Diego and Chicago.
In Europe, the European Commission has been in favor of easing these restrictions imposed after the attacks against the Twin Towers in New York on March 11, 2001, although the liquid standard was introduced in 2006 as a result of a desperate terrorist attack. (using explosives camouflaged in soda cans) was planned by Al Qaeda against seven planes taking off from Heathrow. International Airline Association IATA is also in favor of this project.
Aina Crorepati Scheme
ANA plans a comprehensive security plan that will mobilize an investment of 1,170 million euros over the 2018–2028 decade, including upgrading hold baggage inspection equipment and security filters to the cutting edge of technology and before passing through controls Used to be. The boarding area is becoming more tidy and comfortable. Of that amount, about 188 million will be allocated for the implementation of EDSCB, ATRS and remote technologies in security filters. Another 700 million euros will make it possible to upgrade the baggage inspection equipment in the hold.
In addition to the scanners, automated lines for handling hand luggage (ATRS) will be implemented, allowing the separation of suspicious bags from those that are not, and the handling and automatic return of trays, reducing passenger anxiety. without doing them. For its part, the remote inspection system enables baggage inspection from a remote room without the security guard needing to be physically at the security filter. This will make your work easier: without being exposed to the flow of passengers, you will be able to do it with more concentration.
Both technologies (ATRS and remote inspection), already partially available at Josep Taradales Barcelona-El Prat, Adolfo Suárez Madrid-Barajas and Seville airports, are to be implemented on a larger scale at other points of the network in the coming years. Will be done. Passengers based on expansion actions in certain security zones, such as Palma de Mallorca, Alicante-Elche Miguel Hernández, Tenerife Sur, Gran Canaria and Málaga-Costa del Sol, according to the same sources told EL PAÍS. All these add up to more than 78% of the ANA network's passenger volume in Spain.
With regard to refurbishment of hold baggage inspection equipment and security filters, this will involve the acquisition of 261 Explosive Detection Equipment as well as the work required for its integration.
follow all the information of economy And Business In Facebook And Twitteror in our weekly newspaper
five day agenda
Most important economic appointments of the day, with keys and context to understand their scope.
get it in your mail
Subscribe to continue reading
read without limits