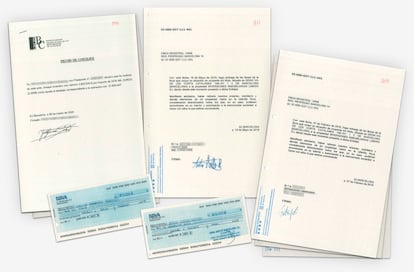 A judicial investigation into a mafia group occupying flats in Barcelona and its metropolitan area has revealed something that until now had been an open secret: investment funds and banks hired illegal occupiers to recover the homes they owned. Paid a generous amount for the same. EL PAÍS has agreed contracts between institutions and people classified as "occupants" in which, in return for a check of up to 10,000 euros as "resettlement aid", they agree to leave the flat.
The group, led by Colombian brothers Plinio C. and José C. and disbanded by Mossos in late November, occupied since 2020—with the outbreak of the pandemic—dozens of homes in Barcelona's southern neighborhood and the neighboring El Hospital. The vast majority is owned by real estate companies affiliated with banks and investment funds. other than rent Sell Flat to compatriot brothers Abduction Waiting to get an offer from the landlord, which will come sooner or later.
The money usually goes to the addict (not the criminal) to fix up their homes. It is a slow road as the courts are often overwhelmed. The mobsters know this and therefore have more time to profit from an occupied floor. "To avoid lengthy and costly procedures," the police said in a report squatter case, the owners provide "financial compensation" to the occupants. The first is the downside: around 2,000 euros, which the residents reject. If negotiations prosper, a private contract is signed between the parties. Pay is usually between 6,000 and 8,000 euros.
Payments are often not a guarantee of anything, because "after a while", the other occupants, guided by Plinio and José, "re-occupy" the same apartment "if the owner does not take measures" to save it. For.
At number 149 of Gran Vía in Barcelona, ​​there are three businesses with three defenses in one flat. In February 2019, Invergenas Inmobiliarias Limara paid 3,000 euros to release a Colombian woman. Three months later, he paid 6,500 euros to a Peruvian who took over. Three years later, in February 2022, he signed a contract with new occupant, Sonia G, a key player in the group. Limara is one of several names (Dorine, Lanisei, Budmac, Avir Investments) that appear in the contracts, although all these companies share a registered office (an office in El Prat) and belong to an investment fund Antisipa Real Estate. Are.
Anticipa, part of North American giant Blackstone, one of the largest owners of rental homes in Spain, has provided documents proving the payments to the judge. Other companies that Mossos assured they have contacted have not done so. The information, in any case, is confirmed by telephone interventions of a dozen members of the group. These include Sonia ji, the last resident of Gran Vía Apartments.
What affects the most is the close. To never miss anything, subscribe.
subscribe
The contract states that the two parties have reached an out-of-court settlement "in mutual interest". The woman will receive 8,000 euros "as financial assistance to move to another home" and undertakes to deliver the apartment in nine months, to show it to future buyers and "with regard to the contents of the agreement". the strictest secrecy may be maintained". ,
Consulted by this newspaper, Antisipa explains that the payments follow "agreements with vulnerable families and risk social exclusion" and help them "with moving expenses and the first expenses in their new home". The fund maintains that it is a "satisfactory" and "sought-after" settlement by both parties, because in addition, it "prevents harm to neighboring communities." In the case of floors being occupied more than once, he acknowledges that "he has paid for different occupants due to strong regulatory pressure that favors illegal occupation", but he assures that " It is not a general policy", but it is about "specific cases". Regarding the confidentiality required in contracts, he says the aim is to "avoid the call effect". Antisipa assured that business is a "serious problem" and that Spain is "an anomaly in Europe" because the rules, especially in Catalonia, "encourage business."
"Other squatters will move in"
While Sonia lives in that apartment, Moss is already listening to her. With her calls to the social services of the Barcelona City Council, Mossos knows that she receives alimony of 300 euros and financial help to pay the rent. In September, she talks with Plinio C., who urges her to prepare everything to return the apartment. Although the contract is signed by him, only 1,000 Euros suit him. The other 7,000 are for the boss, who has located it, "opened" it and manages the network of occupied homes with an iron fist. His idea is to recapture it, sell it to Sonia for 2,000 euros and "rent it out or manage it" for her. "I will immediately put people to face", says Plinio, referring to those who, during the first days after capture, stay home and face police and possible criminal consequences.
Negotiations with banks and funds are common and Plinio is an expert. On another call, he seeks the advice of a man who lives in one of the their floors. He asks her to decline the bank's first offer and says that she doesn't want money but a house; In this way, they believe they will pay them more. "If he wants to give his apartment, money!" Plinio orders him. When he collects, he should give "twenty". Liquor(2,000 Euros) and the debt between them would be settled. By the way, he advises her to "fix the window through which they enter" and not leave the apartment alone: ​​"Other squatters will come in."
The format and concept of the contracts are the same: "transactions and financial assistance to facilitate voluntary delivery of farmland" or "assistance for relocation to another home." The fund is also committed to requesting the filing of legal proceedings against the women. Under one or another of its commercial guises, Antisipa made four payments in early 2021 alone: ​​4,500 euros to Maria S. to leave the mezzanine in L'Hospitalet; 10,000 Euros to Yandriska B. for coming out of a basement in L'Hospitalet; 6,000 euros to Brigitte T. to leave an apartment in the La Bordeta neighborhood of Barcelona; and 4,500 euros to Martha R. to vacate a flat in Poblenou.
You can follow EL PAIS Catalunya here Facebook And Twitteror sign up here to receive our weekly newsletter
Subscribe to continue reading
read without limits