Every year, millions of people around the world celebrate nowruz, New Year in the Persian Calendar. Known as Nowruz, Nowruz, Nowruz, Nowruz, Nowruz, or Nevruz, this historical festival is celebrated on 21 March in several countries along the Silk Road, including Afghanistan, Azerbaijan, India, Iran, Iraq, Kyrgyzstan, Kazakhstan. , Pakistan, Tajikistan. Turkey, Turkmenistan and Uzbekistan.
Unfortunately, this year the Taliban have not allowed the celebration of Nowruz in Afghanistan. But on 27 March, thanks to the support of former workers and other volunteers from the Spanish Agency for Cooperation and Development (AECID), more than 20 Afghan families were collaborating with this agency, we as a community to celebrate. were able to come together. Friends and family at Casa de Campo in Madrid. We were about 80 people from all over Spain.
Some had not had a chance to meet other Afghan refugees since their arrival more than six months ago. The reception system has distributed us across different cities, making it difficult to socialize with co-workers. That's why this festival had a special significance. It was a great opportunity to connect with friends and celebrate our traditions and culture. In addition to sharing experiences, company and conversation, we were able to enjoy our gastronomy with dishes that were carefully prepared by each family, our traditional music and dance and many activities in a wonderful setting for the little ones.
Nowruz is a celebration of a new beginning, of renewal, as in Spain we now have a new phase as refugees
Nowruz marks the beginning of the Persian year with the arrival of spring and in Afghanistan it was celebrated every year in all provinces. United Nations They formally recognized it in 2009. UNESCO's Representative List of the Intangible Cultural Heritage of Humanity. In Afghan tradition, Nowruz marks the end of the old year, which is a time to review what has been lived and start the new year with the best of desire, enthusiasm and flair. Families prepare by refurbishing their wardrobe, buying some necessities, or planning new activities to achieve their goals. It is a community and social festival in the street with music accompanied by traditional dances and games and a large variety of local Afghan foods.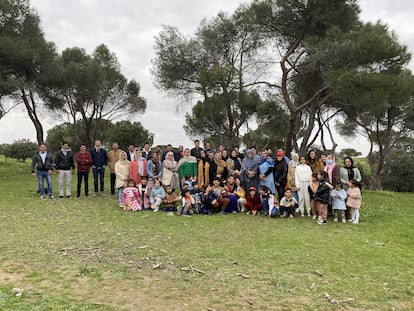 Nowruz is a celebration of a new beginning, of renewal, like our beginning, in Spain, of a new phase as refugees, but also of our diversity. It unites many millions of people of different generations and nationalities. It is a time to learn from each other and remember what we have, which strengthens the coexistence and harmony between peoples and cultures. As our society faces unprecedented challenges, let us be guided by Nauruz's spirit of solidarity and renew our commitment to living in harmony, protecting our planet and leaving no one behind.
Thanks to Spain's support, some of us have had a chance to escape. It was a moment of gratitude to Spain and all the friends who have supported us in this long and sad process of evacuation and integration in this country: Ana, Clara, Christina, Celia, Lucia, Eva, Alejandra and Ignacio. But there are many more who are left behind and are experiencing the present tragedy of our country. We cannot and do not want to forget about them.
We wish everyone a happy, healthy and peaceful Navroz.