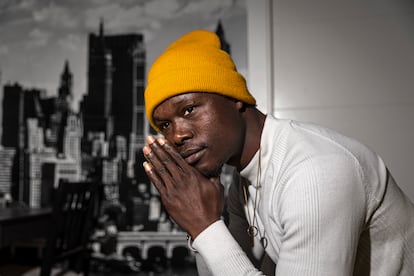 For John (name changed at defendant's request) opening a basic payment account has been an ordeal. This 31-year-old Colombian tried at six different banks and, despite all the necessary paperwork, got it last week after a three-month battle. Salif Conte (22 years) shared the same disappointment. It took a year to open the deposit, but had all the necessary papers. "Without an account could not pay rent or light, and could not get a job," he says angrily. 13 unions and NGOs have reported 240 "irregularities" of the bank to the people's ombudsman for placing "innumerable barriers to access and maintaining accounts".
The law states that banks are "obliged to offer only basic payment accounts without commission, designed for vulnerable people in economic conditions—potential customers who are asylum seekers or who do not have a residence permit." , and its possible removal for legal or factual reasons. However, some banks have been denied access to these accounts for some expatriates, clinging to the Law on Prevention of Money Laundering, which states that they must prove the origin of their income in order to open them. The Spanish Association of Banking (AEB) and the entities consulted by El Pais, Santander, BBVA and CaixaBank ensure that nationality does not affect the behavior of customers and is governed by the provision of the Bank of Spain to prevent money laundering can be stopped. According to AEB, this regulation requires banks to be "extremely cautious".
But for Natalia Slepoy, one of the complaining organizations responsible for the field of events of Red Akoge, some organizations have used this law as an excuse to prevent the creation of new basic accounts "behind certain nationalities It is not acceptable to create a hide account because they believe it will launder money coming from Syria or Venezuela". However, many of them, he says, are applicants for international protection with reports of social vulnerability.
After being harassed by various criminal gangs for thirteen years, Juan arrived in Spain last October hoping to start a new life. He settled in Lardero, a small municipality that borders Logroño, and there he applied for international security and citizenship income from La Rioja, a monthly subsidy that is close to 500 euros. To avail this benefit, it is necessary to have a basic payment account.
A 2014 European directive stated that member states "must have basic payment accounts to encourage vulnerable consumers who do not have a bank account to participate in the retail banking market." In 2019, Spain became independent for the economically weaker.
Juan showed the banks the white paper where he went, a provisional document that certifies acceptance of the asylum application and contains the Foreign Identification Number (NIE). Even after that they were not opened. "I asked the physicist a National Identity Document (DNI), which was still there because it was pending, and an income statement of Colombia, which I couldn't provide because I didn't even take three minimum wages there," he says. .
He knows all the sides of the coin deeply.
to subscribe
I had to resort to the NGO, Welcomes Rioja, a union that promotes the integration of migrants. Accompanied by his advice, Juan obtains a letter signed by Logroo City Council explaining why he needed a bank account. Once again he refused without any explanation. "He was going back and forth with the banks all the time. The downside more than anything else was because he was Colombian. What he told me is enough," he says.
Something similar happened with Conte. After obtaining political asylum and the white paper, other banks would also demand passports, as they believed the NIE provided the facility itself. The young man reached Valencia on a boat about three years ago after a long journey that began in his native Guinea-Conakry. He had always made his goal in Spain clear: get a job. Although many companies wanted to hire him, they could not do so as he had a bank account. "If the law says you can have this right, that is your right. No one can take it away," he complains.
For several months, Conte had to put his money into the accounts of some friends who helped him. Finally, a social worker from the Spanish Commission for Aid to Refugees (CEAR) accompanied them to the bank to confide in them. "It's not normal that this happens in Europe," says Conte.
Sleepoy says that many have managed to help immigrants open accounts: "This is proof that the bank that is doing the irregularities is (…). Obviously, those who apply are entitled to the existing law, that account will be opened. Otherwise, they will not accept activating them." Annabel Marouri, Equal Treatment Techniques says that banks do not report the requirements required to open an account for principal payments and a written refusal to applicants is also mandatory.
After several misadventures, Juan managed to open an account linked to your passport with Banco Santander last week, but he says he will forever remember the administrative battle he faces. "I chose this country because I knew I could live a better life here, but I didn't expect this racism from Banks," he laments.
Conte has also won the battle. Eight months before, having found work at a food delivery company, Six managed to create an account in La Caixa, which had previously rejected him. However, the anxiety hasn't subsided: "There are many colleagues who are in the same position I was in." The associations specifically emphasize that 240 events are collected from the tip of the iceberg in 2020 and most are unregistered.
Exclusive content for customers
Lee Unlimited