The menu of the day, a very reliable Spanish institution, leaves no one behind. Workers with neither safety shoes, nor stylists with platform shoes, at an industrial estate in the suburbs that has eliminated dairy products from their diet. Nor to the caped modern people who understand that there is more than one crime in a platter of lentils. poke bowlNot even the lawyers and bankers who keep their cloth napkins where they used to tie their ties long ago. Emerged in the sixties to offer tourists a combination of traditional dishes at a fixed price, the daily menu adds up without destroying, evolving without forgetting. The new is not a substitute for the old, but a complement, based on the population's ever-increasing healthy habits and desire to order takeout. With barely a change in price since the arrival of the euro, it manages to seat workers of all conditions at the table, who split their day into 30 minutes, an hour or two, a very important part of the day. Moments because they talk about the least important. things. Many restaurants that offer this combo of first, second and dessert get a small margin, but retain customers for the night or the weekend. Some get performance by volume. And there are people who supplement their income with service food and drink, They all function as a public service. They are eating at home. After all, the house
The Trigo family restaurant serves workers who work at the Polvoranca industrial estate located in Leganes, a working class municipality of 187,762 residents, south of Madrid. In Trigo, whether in the living room or on the terrace, you eat with the TV on, not with your mobile. They offer five starters, five seconds and dessert or coffee for 10.90 euros, all detailed on a blackboard at the entrance to the complex. On Friday, which they call Customer's Day, the price drops to €9.50. The dishes that make up the menu are displayed daily in a showcase with a rotating base, a vertical display in front of which customers stop, although it is well known that on Thursdays there is rice according to Spanish tradition and on Tuesdays it is the owner of the establishment. Cooked as ordered by Isidro Moreno.
This hotelier from Badajoz, who came to Madrid in 1990, downplays the cost: "The first course is to come out for 1 euro. Second, for 2. Bread, sweets and drinks, 1.50 euros. Salary of employees, 1.50 euros. That way you have a margin of 3 euros left." Moreno and his wife in the kitchen and their son behind the bar make the most of the style: "Everything turns out, nothing is lost," he says. "If there is lentils left on Monday or beans left on Wednesday, they become the cream of the vegetable. If one day you have roasted chicken, the next day you serve it cilindrones. It might be thought that creativity always comes on Friday, the last working day, but Moreno points in the other direction: the good room in which to preserve the product.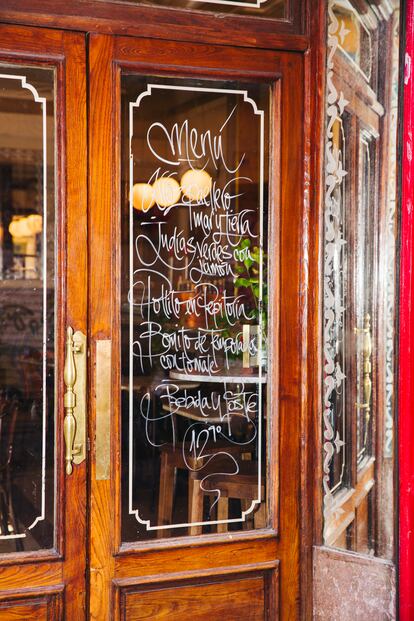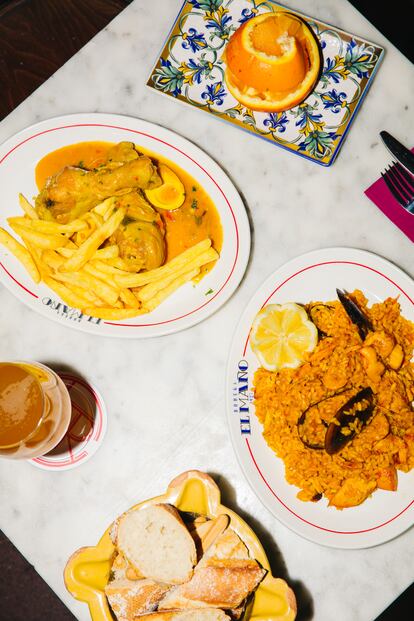 Many of their clients work on their feet or spend most of the day in cars or vans. Meal timing gives a form of comfort, relaxation and coexistence that the day's menu promotes daily. The same relief provides painters, designers, Disc jockey Or the promoters who congregate at Bodegas El Mano in Malasana. Unscheduled workers or those who have always worked from home. They're going to eat chicken at Papitoria and get what they'd see at Truno or Sirocco on the weekend, but in a different way. They want to shorten the week or day, because hearing the bell near food is not the same as hearing the bell of the microwave. To relax, you do not need to go to the beach. They're neighborhood modernity gathered in a lovely old inn that reopened in 2019, which has been renovated enough not to look new, and in which they offer homemade food that's less at home and less at home. Less is served. What was a tradition in Malasana yesterday, it is discrimination today.
Julian is one of two partners of Lara El Mano, who also owns Casa Macarano and Café Ruiz. Lara, a 41-year-old interior designer from Marbella turned restaurant owner, bets on the old as it will always be. "Traditional doesn't go out of style. It is not necessary to change the concept every three years", he said. It offers a small and careful selection at 12.90 euros, two starters and two seconds – and dessert or coffee. This reduces the chance of making a wrong order, a fate that happens to some adventure-seeking menu consumers. El Mano gives about 30 servings a day, a figure that rises on Fridays, when flan or prepared orange is followed by tonic with pachran or vodka, or whatever to talk first and keep quiet and dance afterwards. helps in. "We don't do half the menu. If they just want to have one dish, I'll prepare another in Tupperware for dinner or for the baby," says Lara, a Sicilian mother who explains pasta dishes that are sometimes marked in white markers on the glass. are listed. Entry Gate.
Many taper, rather compostable containers, originate from Magasand, a neighborhood in Madrid's Arganzuela. Its special menu for the day includes discounts on mixing main dishes with soup or cream or salad. This is close to the Anglo-Saxon concept presented in the English series Pret a Manger, where a hearty meal is something that is served between two loaves of bread and the starter is eaten with a spoon in a park when it is good there or at A roof in the case here. They send combo through their service food and drink For shooting and photo session with drinks and sweets for 14 euros and everyone who writes them before noon. a good food Balanced composition of gazpacho or dairy-free cream, crepes or Cake or Bagels…, always with an eye on nurturing minorities. Lots of color, lots of flavor and digestion without any naps.
In their industrial-looking facilities they feed the Madrid middle class who only have a car on vacation and the employees of the El Corte Inglis headquarters who cross the street. In Magasand you don't even eat from your mobile, but sometimes you eat from your laptop. Three co-workers from the fashion industry pass through presentation slides at a table. They say the place is so nice that they can hold meetings. They confirm that the food is so delicious that sometimes they take it for dinner, a glovo in a taxi.
Another updated option on the daily menu is served at Tres, a seasonal cuisine restaurant in the great neighborhood of Salamanca. The starter is made up of three tapas that are served together, and main options include meat, fish, and pasta. sweets or coffee. €13.90. Saul Sanz, 38, of Madrid, chief chef and owner of the establishment, says: "The profitability of the menu of the day is achieved if several are served or if it has a small structure. This is not our case in either of the two cases", he confirmed. "But it helps us to make the place look complete," he explains. It is pleasant to ask for a table for one in the afternoon and for a place for the ambiance. Asking for a table for two and the restaurant is empty is nonsense.
Tres has Japanese whiskey and Magnus for the night and a dal pulao or a samosas for the afternoon. "I prefer to have a menu that has total cost control compared to resorting to El Tenador to fill the table at lunchtime on a discounted basis," he explains. Part of this cost adjustment includes not burdening yourself with gender, saying "if your plate's over, it's over", and converting leftover rations today into meals for tomorrow's employees. is included.
Tables made entirely of lawyers, engineers, bankers, coworkers or mixed with trusted clients pass by. For fun, there's inside, where you can order a grilled fish or game dish. Some customers are so loyal, like finance department employee Pablo Sud, that they don't call to make a reservation, but rather to tell them they're not leaving. "The work has been abandoned," he says, arguing the breaks involved in going to Tres, where there is room for even those passing by. Or students like Claudia Lopez of Santander, a neighborhood resident, who is pursuing her master's degree at ESIC Business School, and who has her mother and sister visiting. The menu of the day represents all. No one is left out.
menu of the day
Wheat. Classic. Tuesday, cooked; Thursday, paella.
It is located in an industrial estate in Leganes. It has a semi-covered terrace with twenty tables and a dining room inside. The formula for the menu of the day is implemented during the week in an economical version and on Saturdays and Sundays with more selective main dishes such as beef tenderloin. Hearty dishes and generous portions.
Magasand. Modern. fast and healthy.
Located in an industrial complex with high ceilings in the Madrid district of Arganzuela. The kitchen and catering preparation area are located on the top floor. Informal, there are no tablecloths on the table and food is served on trays. It is ordered at the bar. It has a separate space with magazines where it is easy to find working clients and a terrace on the street where there is hardly any car traffic. Fast, tasty and delicious food.
Hand. Central. traditionally modern.
In the quieter and less touristy Malasana, west of Calle di San Bernardo, a renovated tavern with trays of appetizers on display and an elegant bar with its own brand of beer without losing its old-fashioned feel. Two first and two seconds. When the weather is nice, they open the doors leading to Calle de la Palma. Insiders to a place that outsiders will love. Comfortable home remedies and pleasant hustle and bustle.
thirteen, executive. bar and tie.
In the Salamanca district, it is made up of high tables, a curved bar that opens to an open kitchen and a dining room with a cloth tablecloth and a specialty drinks trolley. The first course of a fixed-price combo served at noon is always made up of three tapas.