This is the story of two men who have dedicated the last three decades of their lives to mixed purposes. Martin Mestre will seek to see his daughter's killer in prison. and Jaime Saade in 1994 for hiding from the father of the young woman he killed in order not to go to prison. For years, it was like chasing a ghost, the second always winning out over the first. It was as if the earth had swallowed him up on the night of the crime. By 2020. That year Mestre found Sade in Brazil after a search for what appeared to be a film script.
I've been like Forrest Gump, who sat down at the bus stop and told his story to everyone who came by. I have tried to keep the story of Nancy Mariana alive this time. I have told all the policemen, all the commissioners who are passing by.
Martin collapses on the sofa in his home in Barranquilla and looks at his phone vibrating on the table. Twenty-four hours earlier, the Supreme Court of Brazil overturned the previous decision and ordered Sade to be extradited to Colombia. Never before has a case been so close to being solved. Everyone wants to talk to this involuntary hero of the fight against the time of justice, to avoid the prescription of punishment and against himself, because he has just turned 81 years old. The phone won't stop ringing all day. "I'm tired," he confesses. He feels that he spent 29 years speaking what he had to say.
For Martin, tomorrow is always January 1, 1994. A day that remains in his memory as if it had just happened, of which he also remembers the smell of gasoline from his car when he left at dawn to look for his daughter. A story that begins with a father's desperate search through Barranquilla nightclubs at dawn on the first day of the year and ends with the discovery of a murderer. Nancy Mariana was found a few hours later at a clinic, unconscious with a bullet wound to her head. He traced Sade 26 years later, having turned into Henrique dos Santos Abdala, married with two children in Belo Horizonte (Brazil), as if nothing had happened.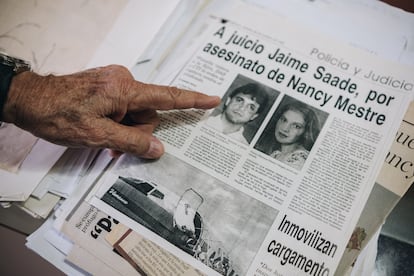 Finding it seemed like the goal, but the reality is that nothing worked for Martin the first time. When Interpol arrested Sade, the process seemed easy. Colombia will request his extradition and Brazil will hand him over. Brazil's Supreme Court ruled against it, against all odds. Two judges voted in favor and two held that guilt was already determined. The fifth magistrate was absent that day and it was decided that the tie would benefit the convict. Sade is free again, Martin thinks this is as far as he came.
newsletter
Analysis of current affairs and the best stories from Colombia delivered to your mailbox every week
Receive
The house that Martin shares with his wife, Lina, and from where you can see the Magdalena River, is filled with religious images. A picture with a virgin, a Christ or a red rosary on the table explain the faith that gives Martin an apparent calmness despite everything he has experienced. He believes that thanks to his role as Forrest Gump, "angels" have been appearing to him throughout this time who have helped him to never give up on a losing cause. The last of those angels, Barranquilla Margarita R. Sanchez's attorney, a partner at Miller & Chevalier (Washington), learned of his case through a friend of his.
His law firm in the United States, without charging the family a dime, decided to launch a legal battle against the Brazilian court to rectify and accept the extradition, which so far had never happened. He argued that the tie was not valid for such a case and that the offense was not determinable. The court not only accepted the trial, but also nullified its earlier ruling and approved the deportation of the convicted man to Colombia this Tuesday amid a powerful allegation against sexist violence.
Mestre followed the hearing by phone from Miami with her son and online with Margarita from Washington. The lawyer in Brazil was Bruno Barreto. Neither Martin nor Lina understood a word of Portuguese, so they tried to be guided by the faces of the magistrates. They thought they were lost until Margarita pulled them out of their mistake. Emotions were running high, but Mestre has learned to control herself.
He is happy, but worried. Sade has been free since the first court verdict and the fear of him running away again is on everyone's mind. One only has to imagine a man who for so many years believed he picked up an 18-year-old girl on her doorstep on the last night of 1993 after celebrating the year. That day, after toasting with the family, Martin went out to say goodbye to the young couple, who had known each other only a short time. "Take care of her for me," he told her.
The parents quietly went to sleep. He had left the hall light on to guide Nancy when she came home. Shortly before dawn, Martin awoke to the start, the light still on. What happened in between those hours is known to Sade, who was never seen again in Barranquilla.
The father visits a disco and goes to Sade's house, where he finds his mother sweeping the floor at dawn. He told that his daughter had met with an accident. At the clinic he met Jaime's father, who told him that Nancy Mariana had attempted suicide. Nine days later the girl herself died. Jaime was sentenced in absentia to 27 years for the murder and rape of the young woman.
Martin wanted a large family with many children and many grandchildren. They had four children, but had to bury three. The first, Maria Paulina, was stillborn. The second, Martin, lives in Miami today and has a daughter, who is his only grandchild. The third was Nancy Mariana and the fourth was Juan Rafael, who died at 15 days old due to liver problems. Martin thinks that if Sade had not run away, he could have mourned for Nancy, which he has not yet been able to do. "And it's not an obsession, I'm not obsessed, I just want him to comply, pay the fine and not make fun of the family or my daughter."
His search for who was once his neighbor becomes the driving force of his life. As a retired military man, he took an intelligence course and became an internet expert. With the help of an officer, he created several false profiles on social networks and thus managed to infiltrate Sade's environment. This set his sights on Brazil, where one of Jaime's brothers lived.
In this case everything has always happened counterclockwise. The 27-year sentence ends this July. Sade's lawyers now say that he has already determined because of a change in the law, which reduces the sentence to 24 years. Martin's lawyers and Brazil's Supreme Court said it is still in force as the prescription was suspended in 2020 with his arrest.
Martin is overwhelmed by all this data. So he shrugs and says we will have to wait till they bring him to Colombia.
– And if he runs away, I have to go back to look for him, I'm used to it.
subscribe here Subscribe to the EL PAÍS newsletter on Colombia and receive all the important information on current affairs in the country.