Cannabis is popularly (wrongly) placed in the team of soft drugs, which are socially accepted and considered less harmful. such as tobacco or alcohol. But there is no harmless medicine. Neither soft nor hard. All have an impact on physical and mental health and carry a high risk of dependence. There is no 100% safe consumption in any case, but scientists have tried to refine how much triggers, without a doubt, a risk to health. With regard to cannabis, researchers from the Hospital Clínic de Barcelona and IDIBAPS have coordinated a scientific consensus that amounts to five or more joints of marijuana or hashish per week as a harmful dose for the body.
About 147 million people, 2.5% of the world's population, use cannabis World Health Organization (WHO). It is, by far, the most cultivated, trafficked and consumed illegal substance above cocaine or opium, which are taken by about 0.2% of the world's population, for example. And although it is called a soft drug, and therapeutic effects have also been described—to treat nausea and vomiting in advanced stages of cancer or AIDS, for example—its harmful effects on health they count by the tens: Disrupts cognitive development, memory, psychomotor function, attention span and can cause respiratory lesions among other harms.
Marce Balcells, head of the clinic's Addictive Behaviors Unit and a member of the working group that drafted the consensus, points out that cannabis use is by no means harmless. "Zero risk does not exist. Today you smoke a joint for the first time and you may have a panic attack, for example. You can be a healthy person, smoke a joint and something can happen to you. And I can't tell you that nothing will happen to you. It is a substance that reaches your brain," she explains.
However, in the field of public health, beyond each particular case, a pattern of risk consumption is generally established. That is, the inflection point from which the risk of developing a substance use problem increases exponentially. With alcohol, for example, it's 20 grams (two glasses of wine) per day for men and 10 grams for women. In cannabis, according to the Clinical Working Group, which presented results from five or more pairs a week at a scientific conference in Granada.
Balcelles points out that quantity, but also frequency, affects when measuring risk: 3.7% of Spaniards use cannabis daily or almost daily, meaning they have a consumption pattern with a high risk to health . Experts acknowledge a certain societal trivialization of cannabis' risks and warn about its complicity: "There's a tendency to present it as something risk-free, natural … but the fact is it comes from a plant. doesn't mean it won't have any effect on health."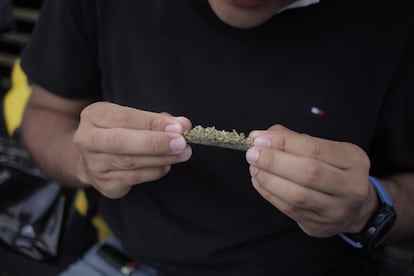 Experts say cannabis potency is also an important element in calculating risk. "In 2014 we defined a standard joint unit and looked at the amount of THC that develops impairment. The potency of marijuana will be important: if it exceeds 10%, it is risky consumption", he added. But it's "difficult" for users, she admits, to gauge how much THC is in their joint: "What we see now is that the potency of what's delivered is increasing. Earlier, a few years back, I had less quantity in preparation," she warns. A higher THC load means greater addiction and a greater risk of mental health disorders, such as psychosis, or the onset of other diseases, such as schizophrenia.
very vulnerable group
Balsells also highlights that there are particularly vulnerable populations, such as people under the age of 21, pregnant women, lactating mothers or those with underlying physical or mental impairments. For these groups, any consumption, no matter how little or no, already poses a health risk. "Consumption at a young age lowers IQ and produces cognitive changes."
The scientific consensus achieved is in line with Canadian researchers, which begins with a recommendation for total abstinence to minimize the risks of cannabis to health. From there, Canadian experts point out that early onset of consumption – before age 16 – is associated "with a number of adverse social and health effects later in young adult life," especially if, in addition to early, consumption is intense. Is. Canadians also consider populations particularly vulnerable to the risks of cannabis, "individuals with a first-degree family history of psychosis or substance use disorders, as well as pregnant women (primarily those with adverse effects on the fetus or newborn) to avoid impact). ,
you can follow country health and wellness In Facebook, Twitter And Instagram,