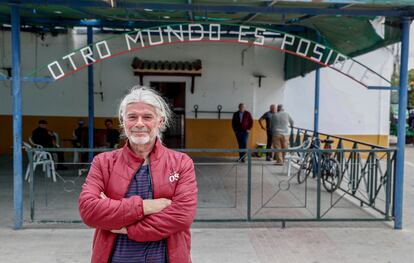 Antonio Martin, 57, clutching his white hair with a plushie, says he went on his first hunger strike when he was 13. He was at school and did not eat for two days. "It was so difficult," he recalls. This happened in the early 1980s, when the then President of the Junta de Andalucía, Rafael Escuerdo (PSOE), promoted agrarian reform. It is from that time that he has memories of the occupations of El Hamoso Farm, which was the property of the Duke of Infantado and whose land was claimed by the inhabitants of Marinaleda (Seville, currently 2,577 inhabitants) to work. All of those demands were led by what has been the municipality's only democratic mayor, 74-year-old Juan Manuel Sánchez Gordillo, who is known as Martín, from the family saga. camillus, have always voted. He will not be able to do so in May as the councilor has given up on re-submitting his candidature. "We're going to miss him," he says at the door of the Farm Workers' Union, a hub of local political activity and whose entrance reads "Another World Is Possible."
Marinaleda is a small municipality located in the center of Andalusia where all neighbors say good morning when crossing the street. Its economy depends almost entirely on agriculture. Especially from olive groves, but they are also cultivated where cereals, broad beans and artichokes grow in the so-called cool lands. This Friday the city woke up grey, with low clouds that reflected confusion among its neighbors, incredulous over Sánchez Gordillo's decision. "Until I hear it from his mouth, I don't believe it," Mariano Prados, 53, said from the bar at the union headquarters, which is also the House of Culture. A group of retirees played cards inside and outside, others warmed themselves around a hearth where olive tree trunks burned. "I have always voted for him," Prados insisted. "And if he runs for another 20 years, I will still vote for him," added a waitress at Enrique's bar, a few meters away. She is suspicious of the treatment the press has given to the municipality and the councillor, she did not want to be named. "It's like they crushed him and the people a lot. And if I say something, you invent other things and say what the big shots tell you," she reprimanded.
The Sevillian musical group Renidentes sang about Marinaleda, "that there they threw two balls at him, that he attacked the bourgeois, that the townsfolk trembled and died in slow agony." The municipality is involved in the mystery of the daily wage workers' struggle promoted by Sánchez Gordillo since his arrival as mayor in 1979 – he was also a deputy in the Andalusian parliament for 12 years. They have put the city on the map with their claims and outposts. His usual bushy beard and Palestinian scarf around his neck are already part of the collective imagination. His shirt also displays the Andalusian flag with a red star in the center, an Andalusian nationalist symbol. It is painted on many walls with the red, yellow and lilac colors of republic or the purple of feminism.
"Social war against capital" is inscribed on the exterior walls of the municipal soccer stadium. Next to it, the covered pavilion features a huge mural with the face of Che Guevara, one of the most famous leaders of the Cuban Revolution. Its view is being seen from the mayor's house itself, where no one answered the door on Friday morning. At the city hall – over whose doors the flags of Western Sahara and Palestine are fluttering – he assures that he continues to exercise municipal management, but his fragile condition prevents him from giving much of himself. He suffered a stroke in 2019 which left the right half of his body with some paralysis. Health has separated him from politics. He has always fought for the workers. They don't like capitalism and have always defended us," said Antonio Reyes, 56, a municipal worker, while he tended some flowers. "He has done many good things," he insisted.
What affects the most is the close. To never miss anything, subscribe.
subscribe
It is difficult to translate these words into numbers. But unemployment has been around 6 or 7% over the past decade, and according to Labor Ministry data, only 116 people are unemployed today. However, there are two aspects that the residents highlight. On the one hand, the house. Since 1982, the city council has promoted 239 self-built houses, according to data from an article published in 2020, signed by University of Seville professor, José Candon-Mena, and municipal architect, Pepa Domínguez-Jaime. The residents themselves work as laborers in gangs paid by the municipality and the houses cost around 20,000 euros in addition to a monthly rent of 15 euros. On the other hand, co-operation. The workers managed to get the Andalusian government, then PSOE, to take over El Humoso Farm and hand it over to eight cooperatives.
Its 1,200 hectares were uncultivated and today they represent an annual business of around six million euros, thanks to oil and canned broad beans, artichokes, broad beans and peppers. "This farmhouse is for the unemployed laborers of Marinaleda", reads its entrance. The city council has been working for years so that these lands are municipal without paying for them, but the Junta de Andalucia wants to sell them to recover them and the case is in court. The Sociedad Cooperativa Andaluza Marinaleda, which consists of the eight original cooperatives, is the entity that manages them while the dispute is resolved. It is the economic and social lung of the city. It provides around 60 permanent workers, which reach up to 400 with seasonal workers involved in various operations. About twenty people collected artichokes this Friday. Among them was Mari Carmen, a neighbor who did not understand that Sánchez Gordillo's resignation had been published. "It is she who should decide and have a say," he complained. The corporator has already done this in 2014 and later backtracked.
"I always bragged about Marinaleda. It has more advantages than disadvantages, but I think it is necessary to renew", said Alicia, 40, who has only seen Sánchez Gordillo as mayor. Marinaleña believes that "Sergio is going to do very well." And she refers to Sergio Gómez, the second deputy mayor and high school teacher whom everyone points to as her successor—though not a party official—and offers nothing for the next councilor. This newspaper has tried to contact Gomez on several occasions without success. Nor is it easy to find dissidents who reject Sánchez Gordillo's legacy. Many of those who do this prefer to remain silent.
But not everyone remains silent about the management of the town in these decades. Members of Avanza, a formation that arose from a group of neighbors "tired of the way it was being governed," speak out. In 2019 he was only 44 votes away from winning the mayoralty, as recalled by his spokeswoman, Cristina Martin, who defines herself as a person on the left (she was a member of Izquierda Unida) and a participant in the wage labor struggle Was. After winning again, Gordillo said: "The first house will be for those who stood the most for this project. He who will not show his face will have no reward, he will have to go to darkness if necessary". Martin is very critical of this type of speech. "there is a problem. It should govern for all, not just a section," she argues, while showing utter uncertainty about what will happen in the next elections. The first without the Eternal Mayor of Marinelleda.
Subscribe to continue reading
read without limits