The bathroom is one such place in the house that, at times, is difficult to keep in order, due to the amount of beauty and hygiene items we store. In addition to resorting to shelves, organizers or storage carts, one option to save space and consider keeping hair care items on hand is to resort to supports for hair dryers and hair straighteners.
These are articles that are specifically designed to keep this type of accessories handy and organized and contain one or more compartments. Most of the models we include in this selection attach to the wall – with adhesives or screws – but there are also those that can be hung from a towel rack or placed directly on a flat surface.
for dryer
adhesive dryer holder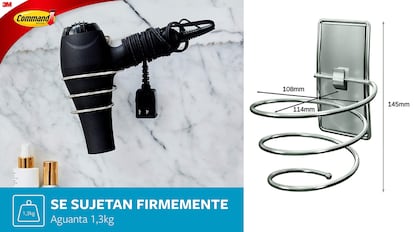 With over 12,000 reviews and an average rating of 4.5 out of 5 stars, this mount is one of the most popular on Amazon. This is a model that provides great support even in wet or humid environments, and it ensures good resistance to oxidation. It supports up to 1.3 kg of weight and has the great advantage that it can be mounted on bathroom tiles or other surfaces without drilling.
wall shelf for hair dryer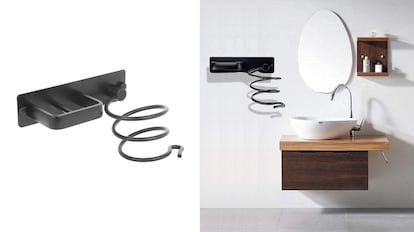 Offered in black and with a double compartment: one for the hair dryer and another for storing combs or other toiletries as an organizer. It is made of durable aluminum and treated to resist corrosion. Assembly is simple and includes everything you need to install it on a wall or cabinet.
wall bracket without drilling
Those who need a shelf that doesn't require drilling can opt for this adhesive backing that doesn't leave a residue on the wall and is safe and stable. For this, it includes 3M adhesive tape on the back which guarantees that it can hold up to 1.5kg of weight. It is a suitable choice for installing on walls made of tile, wood, PVC, glass, metal, marble etc. Not recommended for painted or plaster surfaces, wallpaper, concrete walls, or rough tile.
stainless steel dryer holder
A minimalist, one-piece stainless steel design with a matte brushed finish. To apply it, simply peel off the strip and press the 3M adhesive onto the wall. Apart from silver, it can also be bought in black color and its dimensions are 10 x 9 x 5 cms. This is a very valuable product with an average rating of 4.3 stars out of 5 on Amazon.
for hair straightener
Holder for hair straightener and dryer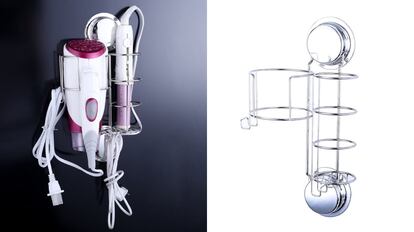 "It is super easy to assemble and the result is exceptional. My dryer is so cute next to a hair straightener. I have been in the bathroom with him for 18 months and he is completely safe." With this endorsement he describes his experience as Some users who reviewed it on Amazon, A model with suction cups that are made of stainless steel and which allows you to store the hair dryer, iron or curling iron in one place.
Holder for curling iron, iron or dryer without drilling, various colors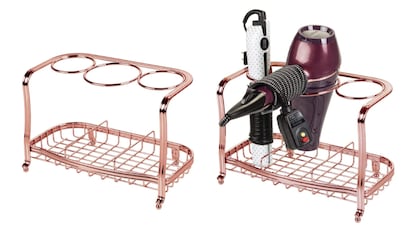 Available in six different colors, this metal basket can be placed on a piece of furniture, on the bathroom counter or, if desired, even hung on the wall. It has enough room for a dryer, hair brush or iron. The interior is divided into three compartments, is made of a resistant material and easily adapts to any decor style.
iron holder and hair dryer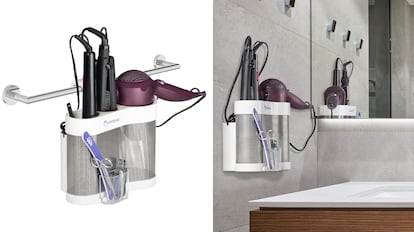 This design allows three options for use: fix it to the wall with plugs and screws, place it directly on a surface, or hold it by the hook of a towel rack or tube. The ABS plastic it is made from is long lasting and easy to clean. From hundreds of comments registered on Amazon, you can find satisfactory experiences such as describe this user, "Good quality and very practical support for organizing things in the bathroom. The dryer, iron and some brushes fit perfectly. So everything is in one place and not cluttered with the bathroom. Very happy with purchase and great value for money".
metal wall bracket, various colors
This practical shelf, with four compartments, is perfect for holding a dryer, iron, curling iron or brush in the bathroom. It has a compact size (34 x 10.8 x 21.2 cm) to fit in small spaces and can be easily fixed. It can be purchased in three colors: white, yellow or black.
*All purchase prices included in this article are current as of March 26, 2022.
YOU CAN FOLLOW EL PAÍS SHOWCASE Facebook And instagramor subscribe here News bulletin,