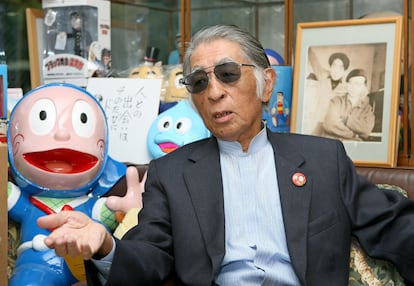 Manga artist Motu Abiko, better known by his stage name Fujiko e Fujio and is a member of an iconic artistic duo with the creator of DoraemonHiroshi Fujimoto has died at the age of 88, police said on Thursday. He was also the father of characters like hatori ninja, among others. According to media such as the public network NHK, Abiko's lifeless body was found early Thursday at her home in the city of Kawasaki, south of Tokyo's Kanagawa Prefecture.
Police are investigating the cause of death, although apparently no signs of violence have been found. Abiko was born in 1934 in Hime City, Toyama Prefecture-on the east coast of central Japan, and aspired to be a manga artist from his youth (mangaka) After graduating from high school in Takaoka City, where he had moved from his neighboring hometown and where he met his other half over the years, Fujimoto, he worked at the local newspaper run by his uncle. He was in charge of doing drawings and interviews for the arts and society class.
In 1954, encouraged by Fujimoto, he left the company and moved to Tokyo. He lived in the famous Tokiwa Residence, where pioneers of modern manga such as Osamu Tezuka-Eisner Award winner and creator were Astro Boy, He spent his youth and his career flourished. That year the two would adopt the stage name Fujiko Fujio and would do several things together before parting ways in 1987.
Abiko would be known professionally by the pseudonym Fujiko A. Fujio, while Fujimoto would be known by Fujiko F. Fujio. Among the works left by Abiko personally are titles such as hatori the ninja (Ninja Hattori-kun) or The Laughing Salesman (Varau Salesman), which will be successfully adapted for an animated series, among other works. Fujimoto, creator of the popular Cosmic Cat series, Doraemon, Who has also influenced Abiko's name for years, died of cancer in 1996 at the age of 62.
All the culture that goes with you is here waiting for you.
to subscribe