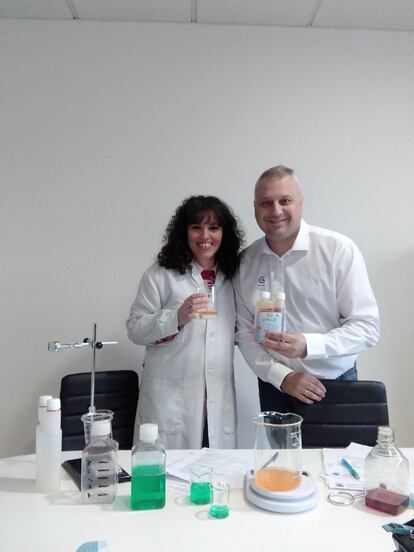 A focus was placed on preventing corrosion on urban furniture due to the urine of the growing dog population, which in addition to being biodegradable was economical and did not affect the health of the animals. This is the idea that led four partners to launch Diacolpet in 2020, a laboratory that designs, produces and markets this anti-urine concentrate as well as another odorant from the paradise town of Pola de Laviana, close to the Redes Natural Park Hai- Fighting with the compound of urine; and several certified organic shampoos and lotions for dogs and cats.
For David Hevia, a doctor in biomedicine and associate professor at the University of Oviedo, "the problem was close to his heart," says Vanessa Fernandez, a chemistry graduate and one of the founders. "With a young child, she couldn't expose him to the toxicity of common products in the backyard," she explains. He quickly observed that this "referred not only to hoteliers and shopkeepers, but also to a general problem." but since Hevea already had its start up The biotech, BioQuochem, in addition to teaching obligations, decided to engage Sergio Fernandez, a third partner with training in business management, and Fernandez himself, CEO and who holds the reins of the firm, to develop the model.
They were born with 20,000 euros "the day before the first imprisonment due to Covid-19" and with a strategy "aimed at cleaning companies with municipal tenders", the main route from which is the 44,000 euros they billed in 2021 and 92,000 came from. of the last exercise. However, they also sell in Paradise stores and through their website.
Regarding Anti-Urine, their flagship product, Fernandez says that they produce it "from active principles extracted from vegetables" and that one of its main properties is the inhibition of oxidation associated with substances that are of this origin. Also, "to get rid of the preservative which is commonly used in the industry and which mainly has an irritating effect on the skin." Furthermore, the founder believes his solution "improves the economic proposition of the competition" being marketed as a concentrate – purchase includes a sprayer into which to pour it and dilute it with water. To do.
Set up to cut costs in an old mining town far from the urban milieu – a monumental chimney long-disused rises from the plot attached to their 500-square-metre warehouse – the founders are now "consolidating commercial clout" are immersed "and for this he believes that he will need "no less than 200,000 euros round". With no forecast of short-term profits, the firm has been financed with 100,000 euros so far by a loan from a public institution in the principality and several smaller private contributions.
follow all the information of economy And Business In Facebook And Twitteror in our weekly newspaper
five day agenda
Most important economic appointments of the day, with keys and context to understand their scope.
get it in your mail
,