A delegation from the Madrid Administration met Pope Francis this morning at the Vatican. The president of the region, Isabel Díaz Ayuso, went to Rome with the mayor of Madrid, José-Luis Martínez Almeida; Government representative, Mercedes González, and the Bishop of Madrid, Carlos Osoro. The reason for the meeting was the celebration of the jubilee year of San Isidro, the patron saint of the Spanish capital. According to Díaz Ayuso, the meeting was cordial and the Pope asked him, among other things, to promote unity in Spanish politics. But the appointment came just after a WhatsApp message was published in which Madrid's president told his lawmakers to kill leftists.
Díaz Ayuso acknowledged the contents of the message at the end of the meeting. But he has denied that it was in the chat, so he downplayed it. "I didn't send any message on any chat. Such statements are not made publicly or in groups. It was a conversation between two, and I would like to see the whole world WhatsApp when he talks about a person. It is spoken like that, and it seems to me most colloquial and common between two people. We all talk like this between two people and with trusted people. It is a fictitious dispute and, of course, what I wanted to convey to my representatives is that they have not let one go after difficult weeks in Parliament and many management problems on the part of the government in Madrid. But this is not the day to talk about it."
On Thursday morning, Díaz Ayuso sent a message that parliamentary spokesman Pedro Muñoz Abrins forwarded the chats shared by all conservative representatives. "The left is finished (…) kill them", read the text on the telephone ending of 65 PP MPs.
Asked if this type of language does not lead to violence and division in politics, as Francisco had asked them to avoid in their meeting, the Madrid president insisted on keeping his statements to the private sector. "I encourage you to look at your WhatsApp conversations and you will see that you may use the same words when you speak in person. The second thing is that I made those statements publicly. But they will not find it in all my years." They think so in the presidential environment and believe that this type of situation, in fact, makes politicians more human.
What affects the most is the close. To never miss anything, subscribe.
subscribe
Ayuso arrived in the Vatican two years after making some statements in which he criticized Pope Francis for his position regarding the Spanish colonization of the Americas. "I wonder if a Catholic who speaks Spanish Say so in return for a legacy like ours", he said then. On this occasion, he said, he has not had the opportunity to discuss it with the Pontiff.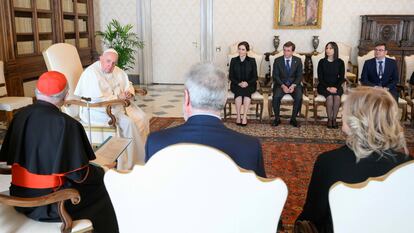 ,