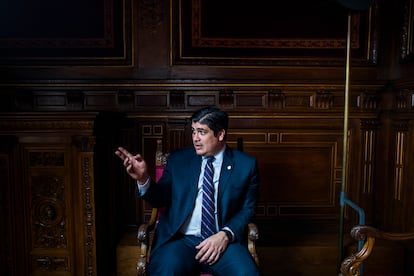 Citizen Action Party (center left) President Carlos Alvarado (San Jose, 42), the youngest president in Costa Rica's history to come to power, has arrived in Europe on a farewell tour after a four-year term. In Spain, he has met with President Pedro Sánchez and the king before his trip to France. "We have had very close relations with Spain during the last four years, especially with Sanchez, who has been to Costa Rica twice. There has been increased investment between the two countries in several sectors such as agribusiness and infrastructure," says Alvarado, who fears the effects of the war in Ukraine, such as a sharp rise in the price of fuel and fertilizers, will destabilize Central America. . And give new wings to populism. "Democracy is not only won by votes, but also destroyed by votes," he says in an interview held Tuesday at Madrid's Casa de America. Costa Rica faces a very polarized presidential election this Sunday and has to be selected in the second round between returning to the past with the historic National Liberation Party's former president Jose María Figueres or betting on former finance minister de Alvarado and the candidate. Will have to do anti installationRodrigo Chaves of the newly formed Social Democratic Progress Party, who has been compared to Trump and Bolsonaro and whose sexual misconduct has been exposed.
Ask, With his mandate ending on May 8, Costa Rica is going through a difficult economic and political situation. Is the Costa Rican miracle over?
answer. Over the past four years, the country has managed to enter the OECD, making it the fourth country in Latin America and the only country in Central America to do so. Also since the end of 2021, it has improved its rating across all risk agencies, moving from B negative to a stable outlook. Last Friday, Costa Rica complied with the second tranche of its agreement with the IMF on the pandemic, which guarantees our economic stability. In 2021, we closed with a growth of 7.6%, which means it has not only recovered, but has recovered from the fallout caused by the health crisis. We exported the most in the last 14 years and had a modest primary surplus in public finance for the first time since 2008. I am not saying that everything has been good, but the macroeconomic indicators are strong, though not without challenges. Unemployment remains high at 13%, and we face challenges that the entire region faces: populism, political polarization, civil dissatisfaction with democracy…
P. Despite the fact that Costa Rica is one of the happiest countries in the world, according to the World Happiness Report 2022 prepared by American universities and Gallup.
R. Happiest in Latin America. But all over the western world there is a feeling that democracy is not yielding results and that temptation towards autocracy where a few people or only one has a strong power that manages to solve problems. Experience has shown that it is a fantasy and we are observing it. Where autocracy manifests itself, be it the war in Ukraine or Nicaragua, the people suffer, the opposition is imprisoned and the press is censored.
P. How do you view the appointment on Sunday? Former President Figueres won the first round on 6 February, but the latest polls show Chaves as the winner, becoming one of his fiercest critics.
Join EL PAS to follow all the news and read without limits.
to subscribe
R, Costa Rica has two advantages. One, that there is no direct re-election and second, that there is an explicit prohibition for the President to rule on these matters. What I can do is get citizens to vote and defend the principles that I think are right for the country, i.e. environmental sustainability, protecting human rights and gender equality. After April 3 I will be able to speak happily, and after May 8 – very easily.
P. Some 150,000 Nicaraguans have taken refuge in Costa Rica in recent months. Who can he talk about Daniel Ortega to whom he has spoken very harsh words… How do you see the situation in Central America in which Costa Rica is a kind of oasis?
R. The country has more than 100,000 refugees and half a million Nicaraguans. In Nicaragua, what we are seeing is a loss of democracy and, in general, the region is experiencing the strains of polarization and populism, which are mechanisms by which autocracy erodes democracy unless it replaces it. does not terminate. Populist discourse wins followers with Kan's easy and popular solution. Democracy is not won only by votes, it is also destroyed by votes. It is one of the biggest risks and the breeding grounds for it are inequality, civil discontent, violence, lack of trust in institutions. We true democrats have to fight to make democracy work for the people and now there is a big challenge. The war in Ukraine is going to cause instability not only in Europe, but also in Latin America due to increased fuel prices and agricultural inputs such as fertilisers. If agricultural production in Latin America becomes impossible because of the high cost, it will have a great impact on unemployment, migration and civil discontent.
P, Are you already feeling those effects?
R. Correct. In fuel prices, although the electricity matrix is ​​99% clean and renewable, our transport, although it is in the process of transitioning to electricity, is still dependent on fossil fuels, just as our agriculture depends on many imported inputs. This is also a majority reality in Latin America and our economies do not have the fiscal margins to subsidize these effects in the long run. It would be desirable to reach peace as soon as possible.
P. During his tenure there were demonstrations and strikes in Costa Rica over tax measures, some parallels with Chile, another country that was a model in Latin America.
R. We had to carry out a series of fiscal reforms to protect the social rule of law, to make it sustainable in terms of education and health, and reforms were needed, some were opposed, but in the end we were able to fulfill them. succeeded in It is sometimes debated whether reforms are neoliberal or right-wing and irresponsible spending is the monopoly of the left. Reform to generate efficiency and good social and solidarity services is something that progressivism aims to do. It is not eradicating or privatizing services, but is not spending in an inefficient and irresponsible manner. I have tried to prolong the life of social rule of law in Costa Rica. close to the country miss out (suspension of payment) And we took it off from there.
P. You so called How do you face the potential process? UPAD caseCreating a presidential data analysis office for which he is accused of spying on citizens?
R. Some call it espionage, but it is called data science, which has nothing to do with people's confidential information. It was never in the spirit of the government, but we are in a time when the management of aggregated information allows for better public policies and is done not only by the government of Costa Rica, but by the rest of the democracies without further infringement. Is. Nobody's privacy. I think it was a way to attack the government at that time. I sleep very peacefully. I didn't spy on anyone, nor did I steal the colon.
Follow all international notifications in Facebook And Twitteror in our weekly newspaper,
Exclusive content for customers
read without limits