He has almost all weekends of the year as the organizer of music and sports events throughout Spain, but his passion is bullfighting, and he has earned a business reputation – he is vice-president of ANOET, the bullfighting association – manager of sections Like Algeciras and Sanlúcar de Barrameda, the city of Cádiz, where he was born in December 1967.
Carmelo Garcia was a bullfighting prodigy child, Paco Ojeda gave him the title of bullfighter in 1987, and as a junior in the Jesulin de Ubrique gang he achieved the happiness that the bullfighter outfit had denied him. Even today, he loves the bullfighting festival and is responsible for organizing the festival every day.
About 90 are advertised to the public each year, but only 20 of those are bullfights; The rest, current music festivals and motorcycle shows—called freestyle motocross—throughout the country because Garcia only runs five bullfighting venues; Villacarillo (Jaén), San José del Valle (Cádiz) and Peraleda de la Mata (Cáceres) are added to those already mentioned in Algeciras and Sanlúcar.
"Music and motorcycles bring more profit than bullfights," says Carmelo Garcia. "We are increasingly working in this area with songs and acrobatic figures, but what I love is organizing bullfights, although I agree that I should complement them with other activities so that the numbers of the company stand out. come; If it weren't for music, I could still live, but in a different way.
"When I was fighting I never stopped sleeping for a night, and as a businessman I have been awake more than once"
Garcia has a staff of six, and admits that he makes little money with the bulls, as production costs are high. "I haven't hiked the ticket price in years, but what I get is enough for me," he says. "And I confess that when the show is boring, but I earn more, I am happier when the public has fun and the profit is less. In fact, I like being the way I am and I don't want any other place".
These days, Carmelo Garcia combines work on the weekends with buying bulls for his fairs and hiring bullfighters. "This is an important period in the season; Now is the time when you have to hit the hoardings and animal farms", says the businessman. "Now you may be wrong, because, later, the month of July comes and you may find that the selected bullfighters have lost interest or that others you did not hire have become successful."
Garcia admits he is concerned about young bullfighters with the projection, and that every businessman has an obligation to bet on the future. He says he knows the area and maintains good relations with the bullfighters and ranchers. "Statistics are demanding, of course they are," he affirms, "and that is normal for those who want to reach the top; Also, it's logical that a bullfighter who brings the public to the ring intends to make money, but I've never had a problem with anyone negotiating a reduction in fees because the audience didn't respond one afternoon.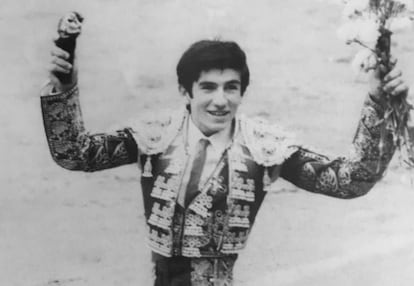 Ask, Is the company sleeping?
Answer, I haven't stopped sleeping a night when I've been fighting, and as a trader I've been awake more than once. I get very nervous. Once Pacelo is started, there's nothing more you can do. And I worry about disappointing my customers.
Carmelo Garcia was a budding bullfighter with projection, though life surprised him in other ways. And he tells it naturally: "I was born in front of the Sanlucar bullring, my childhood was spent in its ring, and the bulls became my world and my passion without any family influence, as my parents were not even fans Were."
P, And they said about you that you were a prodigy bullfighter.
R, It's true, that's what they said about me, and I answer that I was wrong for everybody, because they thought I'd be a person and I wasn't. They nailed me to the ceiling and I was nothing.
P, Nothing, either…
R., Well… I started wearing light clothes for the first time at the age of 13 in Benicassim (Castellón); Later, I was a figure of Novilleros with horses for two seasons, and in one of them I led the ranks, but in the year 86, in the Toledo city of Almorox, a steer stuck the dragon to my neck and My mouth dropped out, and I got really scared.
"Bullfighting is my passion and I enjoy what I do; It is very important that your work should be your hobby"
P, But the alternative was the luxury…
R, Definitely. A dreamy afternoon on May 31, 1987, in the Plaza de Sanlúcar with maestro Paco Ojeda y Jerezano. That year I did Paselo's Seven Afternoon, and later…
"After Göring almorox, a long time passed in which I did not see him ", continues the bullfighter. "It's like I was very close to death, they operated on me in the garage of a house, and I had a really bad time."
He endured three years in the upper echelon, which he described as "the ordeal of unemployment", and at 23 he decided to wear a silver suit in the Jesulin de Ubrique gang.
"I was with Jesus for 18 years, I made money, I got prizes in important fairs, I enjoyed a lot and I was very happy. I was after the best bullfighter of recent times, we stayed in the best hotels, we went to big fairs and with good bullfights… With Jesulin I was able to experience the greatness of bullfighting. And when he retired in 2004, I decided to hang up my bullfighter suit as well.
and the following year, together with his partner Antonio Caba, he made his debut as a businessman in the Plaza de Ubrique. The new managers soon parted ways, and since then, Carmelo Garcia has worked alone.
"Bulls are my passion," he insists. "I would never give it up for music or a motorcycle. I enjoy what I do, and it is very important that your work be your hobby.
All the culture you want to go with is here waiting for you.
subscribe
babelia
Literary novelties analyzed by the best critics in our weekly bulletin
Receive it