Latin Americans experience Madrid in a special way, with a city filled with accents and, incidentally, businesses run by men and women who feel part of the city open to welcome them , start their own businesses. In this way, they bring a piece of their land to Spain and return to the part of the city that gives them. This is his special tribute.
The three projects we propose you to attend this week are created and managed by Latin Americans, offering all kinds of different experiences in the city. These are Sweet Space, Salpicarte and Bunker Cocktail Bar.
splash wall painting
A few meters away in what is known as Estación del Arte, it has just opened Splashing (Méndez Álvaro Street, No. 6), a space dedicated to everyone being able to create their own painting. For 45 minutes, customers can turn on their favorite music and forget about everything while painting a 40×50 canvas that hangs on the wall. To do this, it is convenient to forget what painting teachers advise who correct those who go out of line: here everyone can paint as he likes.
Because anything goes in splashing. You can quietly try to emulate Velazquez or Picasso, or you can choose to spray paint, use your hands and roll on white paint, and start again.
Finally, artists can take their painting home and continue to enjoy their creation every time they see it hanging in the living room.
What affects the most is the close. To never miss anything, subscribe.
subscribe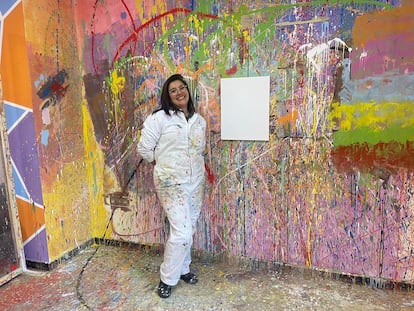 The owner of Salpicarte, Sarahi Teixeira, 28, decided to start a business after many sleepless nights watching videos about fun experiences in other cities on the internet: "We saw that there was a lot of demand for these kinds of places. There's more and we launched ourselves on an adventure," she confesses.
During these first days they have realized that it is not only a leisure place to live a different experience but also works as art therapy. "Clients often keep analyzing the pictures long after they're finished," Teixeira admits.
One drink is included in entrance and prices vary according to the number of people. These range from 25 to 32 euros. "There are people who have never painted in their life, so they come here just because they want to splash around," says the owner, who moved to Madrid from Venezuela three years ago.
bunker with the most military cups
Fernán Morales, 33, arrived in Madrid five years ago. He studied business administration in Colombia, but has dedicated himself to the hospitality industry since arriving. He has done so well in the bars where he has worked that this year he decided to open his own bar with his partner, Yinevar José Escobar.
Contrary to what is usually done, they first found the premises and then thought of what they could set up with the space they had. The result of this type of optimization exercise is Bunker Cocktail Bar (Calle de Antonio Flores, No. 5), a business located on the ground floor that gives the feel of being a real bunker. As a result, all of the bar's cocktails and themes are inspired by the military, which sets them apart from many other offerings.
Of these, the Emergency Bengal stands out, a drink containing sweet citrus, Bacardi white rum, passion fruit, curry, quince syrup and eucalyptus perfume. The ammunition box is also particularly noteworthy: Larios 12 gin, vermouth Rosso, maraschino liqueur and orange bitters. They have become a trend in the network because in addition to serving as a place to go out for drinks, the experience inside the bunker is very entertaining: each drink has its own story. Cocktails cost 10 euros.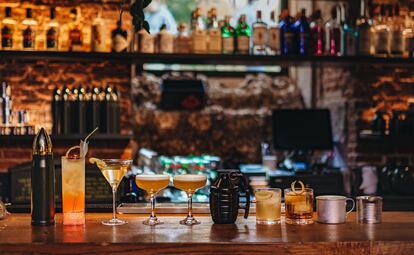 The complex also offers the possibility of contracting space for company events or celebrations with different menus. They have karaoke on Wednesdays, and every month they hold cocktail courses on the premises. These cost €30 per person and include two alcoholic drinks.
museum full of sweets
In the ABC Serrano shopping center, on the second floor, is Madrid's cutest museum. sweet space (Calle de Serrano, number 61) wants to appeal to the senses of its visitors, which is why they have created a museum filled with cotton candy clouds and candy pillars that flood every corner of the space.
The tour begins with the host of the place, an astronaut named Astro, landing in the museum. Guides take a multidimensional tour of the venue where each room has been designed by artists such as Agatha Ruiz de la Prada. In each, depending on the theme, visitors are treated to a different dessert. "Bring out your inner child," Astro shouts from time to time during the tour.
"Take lots of pictures", says the guide again. and yes, it is undoubtedly one of the most instagrammable City's: That's why it has become a trend.
The museum has 10 spaces with different settings that allow its visitors to immerse themselves in the experience. For example, it has similar rooms One Night's Dream by Mr. Piro, Avatar by Esther Moya rainbow candy wall by María Eugenia Reyna in which the idea is for users to connect with their childhood and become protagonists of their own experiences. So much so that you have to slide down a slide to get out. Entry price is 12.65.
The creators of Sweet Space, Corina Mayorca and Alexandra Uzcategui, met at the Institute of Design in Caracas (Venezuela) and met again in Madrid in 2019. At that point, talking about business opportunities, they decided to create Sweet Space. "It is a project that seeks to merge the traditional concept of art and new digital trends through an interactive tasting," explains Uzcategui.
subscribe here For our daily newsletter about Madrid.