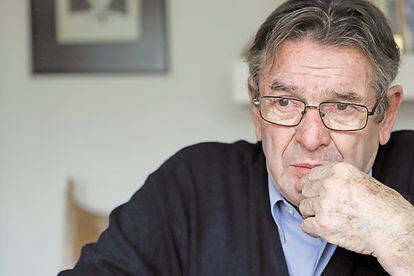 The government of Gabriel Boric has appointed socialist Jaime Gazmurri (Chilan, 79) as Chile's new ambassador to Venezuela, where Chile has had no ambassador since 2018, although diplomatic relations were not severed. A member of the Socialist Party and a senator for 20 years – between 1990 and 2010, he is a long-standing politician with highly valuable diplomatic experience. Between 2014 and 2018 he was Chile's ambassador to Brazil during the second term of Michelle Bachelet, with Lula da Silva as president. As Santiago's representative in Caracas, it will be up to Gazmuri to normalize diplomatic relations, an open criticism of human rights violations in Venezuela by President Boric and earlier, Sebastián Piñera (2018- 2022) as president. Stressed by the role played. Open support for the opposition, and in particular for the then opposition leader Juan Guaidó.
"While we have always maintained diplomatic relations with Venezuela, we believe that this is an opportune moment to normalize relations at the highest level, namely by appointing an ambassador to that country. This is aimed at strengthening the bilateral work that we have continued during this time," Chilean Foreign Minister Alberto Van Claveren explained to EL PAIS.
Gazmurri is one of the most experienced figures of Chilean progressivism with extensive ties to the Latin American left. One of the founders of the Movimiento de Acción Popular Unitaria, MAPU, born in the late sixties, was so relevant that in the split of this political force after the coup, a faction was named MAPU-Gazmuri (more moderate wing) . Part of the extremism of other forces that culminated in the Socialist Party in the eighties, in the last phase of the dictatorship, he was a key figure in the Senate in the transition to democracy, where he chaired the Foreign Relations Commission. Since his management of the Brazilian embassy was appraised brilliantly at the Ministry of Foreign Affairs, he brought extensive political management and deep knowledge of the leftist in the field to try to normalize diplomatic relations between the two countries after five complicated years. Will reach Venezuela with.
Boric is the Latin American leader of the Left who has distanced himself the most from Caracas, even during the election campaign in March 2022. His position has put him at odds with the most extreme sectors of his government's coalition, such as the Partido Communiste. Last September, Chile's president opened fire against Venezuela. During a talk at Columbia University in New York, the Chilean president emphasized his criticism of Nicolas Maduro's government and human rights violations in Nicaragua as well. Being on the left, he said, should not prevent him from issuing his opinion, despite the fact that many people in Chile tell him that "one should not speak bad about friends." "I get angry when you are a leftist and you can condemn human rights violations in Yemen or El Salvador, but you can't talk about Venezuela or Nicaragua… or Chile. In Chile we have serious violations of human rights in a social outbreak (de 2019) "We cannot have double standards," he said in September 2022. Country running away from humanitarian crisis
Boric's statements before the assembly had already had an effect in Caracas. Diosdado Cabello, the second most powerful figure in the government, accused Chile's president of speaking "nonsense" in front of world leaders gathered in New York. "If they think we are going to surrender because a fool like Boric came out to talk nonsense about Venezuela, they are wrong, a wretch, going out to speak ill of Venezuela, so many problems There is a historical debt with the Mapuche population, and what he does is leave chasing them," Cabello said. To a Venezuelan deputy, Boric said bad about Venezuelans "to look good with the gringos." "Quite funny," he said.
Foreign Minister Van Kalveren, who took over from the foreign ministry at the beginning of last March replacing Antonia Urezola, has initiated dialogue with Venezuela on issues of highest sensitivity for the region and for Chile, such as the migration problem. There is a strong belief in Santiago that the tensions arising in the Venezuelan diaspora and in the rest of the world cannot be resolved without active dialogue with Venezuelans. At the beginning of his administration, Van Kalveren acknowledged the "difficulties" for Venezuela to accept people deported from Chile in the context of the migration crisis occurring at Chile's northern border. In early May, however, the foreign ministry confirmed that Venezuela had sent a private vehicle to repatriate migrants stranded at the Peruvian border.
In mid-April, in an interview with EFE, Chile's Foreign Minister assured: "There is a migrant crisis that affects different countries and, obviously, requires much more cooperation than currently exists. We know this is a very complex subject. In Europe too, but the truth is that we have very few means to deal with it collectively. One of our efforts at this point of time is to be able to strengthen these cooperation mechanisms at the regional level. There is talk of reviving Unasura, we are interested in participating in any plan". For Boric's foreign minister, "talking with Venezuela and Bolivia is absolutely necessary." "Venezuela is interested in the repatriation of its citizens. They had a repatriation program which has been disrupted. We are interested that this program can be restarted," said van Kalveren, who like Gazmuri himself is part of the Permanent Forum on Foreign Policy, "to see a broad convergence around the basic principles of foreign policy in March 2019. Designed to promote. State saving the tradition of democratic Chile".
In the previous government, President Piñera took a leading role at the regional level in supporting Venezuelan dissent, which further complicated relations between Chile and Venezuela. The last ambassador, in fact, was Pedro Felipe Ramírez, who left his position on March 31, 2018. In February 2019, Pinera arrived in Cucuta, a Colombian municipality on the border with Venezuela, to lead the entry of humanitarian aid. Operation designed by Colombian President Ivan Duque. Aimed at promoting the downfall of the Nicolás Maduro regime, the trip ultimately ended in a fiasco that marked not only the Piñera government, but also relations between Chile and Venezuela.
subscribe here newsletter EL PAÍS Receive all the important information on current affairs from America and in the region