Zanelle Muholy's paintings document the lives of black, lesbian, gay, asexual, bisexual, trans, intersex people, most of them in their home country of South Africa. Life is, in some cases, much more difficult, such as those who have been victims of hate crimes, have been raped because of their condition, or who cannot and cannot express what they feel about being alone and stigmatized. How do you feel without fear?
The camera of this 49-year-old photographer and "visual activist," as she defines herself, reflects not only those experiences with humanism and empathy, but also protests and rebellion against the injustice that has its roots apartheid which divided South African society between blacks, the majority, and whites, privileged minorities, until its abolition in 1992. And it does so with spectacular, dynamic, beautiful images that affirm blackness, gay love, and a sexual nature. Of each, as can be seen in the exhibition presented this Tuesday at the Institut Valencia d'Art Moderne (IVAM), the first major retrospective dedicated to a South African artist in Spain.
Muholy's activism doesn't stop him from presenting conceptual humor in a series of shocking, critical, and playful self-portraits that defy stereotypes and foreignisation A sample of a black woman opening an exhibition tour made up of 260 images titled zanelle muholikWhich will remain open at the Valencian Museum until 4 September.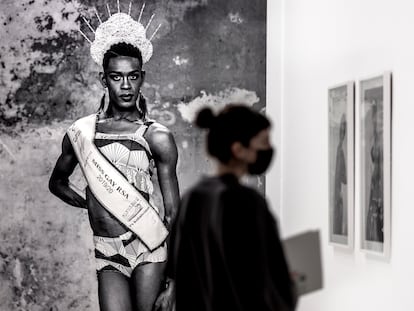 The exhibition covers "Muholi's entire artistic career and reflects his main concerns: giving visibility to his community; promote tolerance, respect and mutual understanding; and serve as a platform so that those who participate in their actions can speak with their own voice", explained Nuria Nguita, the center's director.
In the artist's absence, the director of IVAM remarked that "his activism comes from a complex South African tradition of competition that arose in historical conflict. apartheidLong lives in the personal need to respond to the absence of representation of the LGBTQIA+ group with which it identifies.
All the culture that goes with you is here waiting for you.
to subscribe
In the initial series, Somanyama Nogonyama (Hail, Black Lioness), Muholi turns the camera on himself to explore the politics of caste and representation. In some of these self-portraits he closes his eyes; In others, he looks fearlessly into the camera, wondering what it means for a black man to look back.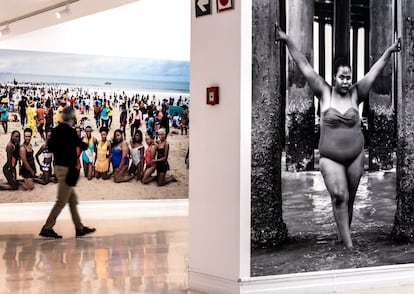 The Second Room brings together the works of his first series, only half the picture (2002–2006), with South African hate crime survivors and their images township, residential areas built during apartheid Giving homes only to people evicted from places classified as white. There are also works from the series displayed here. Is happening (2006-released), which depicts the moments of closeness between the couples as well as their daily lives and routines.
Feather brave beauties (2014-ongoing) Muholy portrays trans women and non-binary and gender non-conforming people, many of them contestants in beauty pageants. ends with the sample set face and feet, Composed of over 500 photographs, 104 of which are on display at the IVAM.
"In Muholly's work, with a desire for change and an implicit belief in the power of the art of fighting, there is one question: for how long? It is essential for the museum to connect with the transformative desire that brings a plurality closer to a world without which there is no world. We must think of the museum as a utopia in action, as a hospitable space with vital and cosmopolitan ideas, with the creation of human diversity full of rights and recognition; From a belief in the critical and creative power of art, from an awareness of the legitimate value that it bestows on images", explained the director of IVAM.
The exhibition is jointly organized by Tate Modern in London, Maison European de la Photographie in Paris, Gropius Bau in Berlin, Bildmuseet of Ume University and IVAM.