Euroleague working day 29
barca
red Star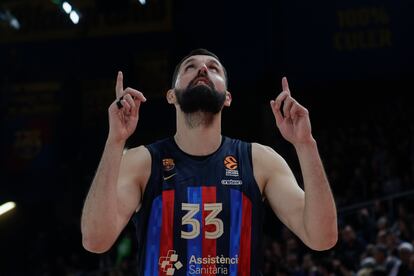 Barca expressed their lack of spirit and competitiveness last week after consecutive losses at home and away against Fenerbahçe and Olympiakos, mistakes that call into question the home court factor for the qualifying rounds ahead of the Euroleague Final Four. The bumps can be traced, as Jasikevicius's team initially distilled a volcanic basketball, to later destroy and age to thaw, going from heaven to hell. Against Red Star, however, the Barca team recovered its action and pulse in Palau, a restorative win (85–79) by Satoranski, Wesley and Mirotic, finally a team without hesitation and a clear final quarter. Plus who could stop Campazo's basketball. And, incidentally, the Serbian team.
The Serbian team, led by Dusko Ivanovic and his extravagant hairstyle—top baldness adorned with a long ponytail—was not a comfortable opponent, always led by the extraordinary Campazzo, quick as lightning on counters to get rid of his dance partners. But the Argentine didn't start the duel in tune, as he missed two consecutive triples and took a spectacular hat-trick from a Satoransky, which explained the centimeter disparity between the point guards (1.81m from Estrella to 2.01m from the Czech). , Abrians, coming out of the game, started on the opposite side, pitching along the perimeter to Mirotic. Although Campazo scored 34 Minute to go against the widespread and established policy of rotation on the floor, he did not understand that playing poorly and he was soon active, distributor of assists and exceptional at the basket. The battle was therefore equalized in the paint, again Barcelona as timid in their defense as Red Star, capital Bentil's tall men relieved Mitrovic at the start.
Another issue was the shot from abroad, a contagion among the Serbs, who bowled eight runs without much success. Ivanovic targeted at number nine. Nothing that didn't answer from Abrins, who had more in his pocket – four out of four to start – and was continued by Vesely, who started with a sprained wrist but knew that the middle-distance How to recover yourself in time to punish the opponent with shots. , Barça, although far from its best version, did not show the weaknesses that had caused it to make so many bets, enough to reach the halftime with an income of four points (40-36).
chaff Satoransky and chaff from Mirotic. Two consecutive triples from Barca to open the third quarter and Red Star the difference. a position that Campazzo resented, surpassed in defense by Satoransky, excellent in shooting, but dominant and irreplaceable in attack (again as a sniper or as a pass liner along lines that did not exist) Laprovitola To convince that he has ethical food. as good as a rival; As a partner in the battle for the point guard position. A whirlwind that carried the duel to the tables (57–57) and the final chapter ended. Jasikevicius's moment of anger, which did not stop in his bellowing or fussing; Moment of fire from the Palau stand, which he saw his team tremble again, which again missed a 10-point lead.
Campazo rested at the start of the final quarter, with the masseur attending to oxygenate his legs. A minute off as he had the job, as Barca were getting stronger and giving wattage to their defence, finally a clean and resourceful team, led by Satoranski and manned by Mirotic. A moment of Blaugrana ecstasy experienced by a stratospheric stopper from Wesley, who raises his fist and coincidentally passes it to Palau. But Red Star, the cat with seven lives, continued with the rubber game, going from seven to two points in one breath, I'm leaving but I'll be back, whatever Campazzo says. But it was Jokubatis who spoke the most in the end, scoring five points and an assist for Kalinic's three-pointer, the final shot and sealing a victory that finally put Barca to rest in Europe.
FC Barcelona, ​​85 – Red Star, 79
FC Barcelona: Satoranski (13), Leprovitola (3), Abrins (12), Mirotic (21) and Sunli (2) -the starting five-; Da Silva (0), Pauli (0), Vesely (21), Kalinic (5), Tobey (0), Kuric (0) and Jokubatis (8).
red Star: Campazo (24), Vildoza (7), Lazarević (0), Martin (2) and Bentil (11) -the starting five-; Mitrovic (11), Ivanovic (6), Markovic (6) and Petrusev (12).
Partial: 18-15; 22-21; 17-21 and 28-22.
Ref: Straten Radovic (Croatia), Carmelo Paternico (Italy) and Amit Balak (Israel).
Palau Blaugrana. 7,160 spectators.
You can follow EL PAIS Sports Facebook And Twitteror sign up here to receive our weekly newsletter,
,