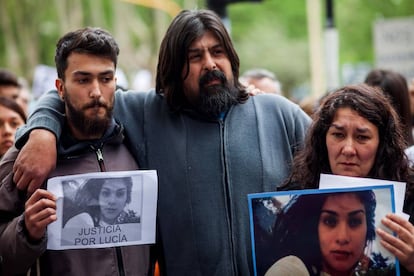 In October 2016, Lucia Perez from Argentina was 16 years old when she was pronounced dead in the first aid room of Mar del Plata. More than six years later, justice has sentenced 29-year-old Matias Farias to life imprisonment for supplying her with drugs, raping and murdering her. Juan Pablo Ofidani, 48, has received an eight-year prison sentence – which adds to the total of 15 added to a previous sentence – he is deemed to be a criminally responsible secondary participant in the offense of "sexual assault with sexual assault". . of narcotics".
Dozens of people gathered in front of Oral Criminal Court 2 in the city of Mar del Plata, 400 kilometers south of Buenos Aires, to welcome the sentence. "With this eternal life that we have got for Fariyas today, everything has changed. Till yesterday we didn't even know whether this trial is going to happen or not, whether this sentence is going to happen or not. Now, no narco, no SellerHe's going to break any other girl's ass like he did with Lucia," Marta Monteiro, the victim's mother, said as she left the court.
"Lucia was destroyed, they destroyed her internally. She was raped till 15 minutes before her death. They raped her until her body was dead," added Montero, on the verge of tears, after thanking the accompaniment of feminist and human rights organizations.
The case of Lucia Pérez became one of the symbols of the fight against femicide in Argentina, but the first judicial process was riddled with irregularities. A few days after her death, the prosecutor in charge informed the media that the teenager had been killed by crucifixion, an allegation his experts later denied and dropped him from the case. In 2018, judges, in a highly disputed sentence, acquitted those accused of feminism, noting that Perez's cause of death was "intoxication by overdose" and that there was no abuse, but a sexual relationship. Farias and Ofidani were sentenced for selling drugs. This decision caused a lot of social outcry and appealed.
In 2020, a court of second instance overturned the conviction and ordered a new oral trial, noting that the magistrates "unreasonably applied themselves in the analysis of the intimate life of the victim before the incident, Without referring to facts." Perspective of style".
Based on the quashed conviction, magistrates referred to the victim's previous sexual experiences, her status as a drug user, and her absence from school to validate the version of consent used by the defendants.
In the decision made public this Thursday, the magistrate asked the public prosecutor's office to investigate the "possible presence of third parties" at Farias' home who may have hidden important evidence at the crime scene.
Subscribe to the EL PAÍS America newsletter here and receive all the latest news in the region.
,