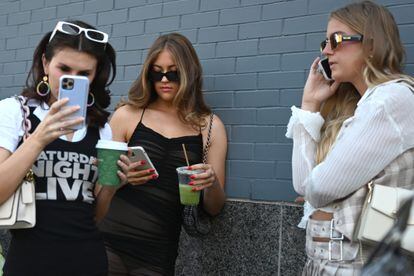 Dr. Vivek Murthy, chief health officer in Joe Biden's government cabinet, published an opinion on Tuesday in which he called for limiting minors' access to social networks. The recommendation comes because of "growing concern" among parents, researchers and experts that the digital environment could be impacting young people's mental health. "Our children and adolescents don't have the luxury of waiting until we know those impressions," the Department of Health surgeon general says in reference to the network. Officials acknowledge their "concern" that the way these platforms are designed and used to engage the youngest, could be affecting their brain development, especially for teenagers , if they consume without supervision. ,
The damage of social networks depends on the exposure time. With a near-universal presence among minors, 95% of those ages 13 to 17 say they use them and find benefit in them. Among the benefits, teens say they feel more accepted, are the best channel to get help through tough times and a good place to unleash their most creative sides.
Health experts, however, warn of mental health problems that can lead to using these platforms for more than three hours a day. That time is long enough to double the risk of manifesting anxious and depressed feelings, and it's hardly a basis for app consumption, a 2021 survey found pegged 3.5 hours a day as the average. scroll Online. Network abuse can also affect physical balance with eating disorders, create social complications and lower self-esteem, especially among girls. A third of females between the ages of 11 and 15 say they feel addicted to a social network.
Murthy argues that it is the responsibility of the government to provide the tools to navigate the murky waters of the digital ecosystem. In a reflection repeated more and more often in Washington, the expert believes technology isn't doing enough to create safe spaces for children and teens. Doctors wonder why authorities don't take apps and social networks with the same seriousness that they take for new toys or drugs. In these cases, products that reach the market undergo third-party testing to minimize potential harm to consumers. "A priority approach should be taken to safeguarding social networking products, given the growing evidence of the risk of harm they pose to some children and adolescents," the document said.
Tochi Iroku-Malize, president of the Association of Family Physicians, has found that while social media is a powerful tool for staying connected, it can also trigger feelings of "depression and anxiety" among teenagers. The American Academy of Pediatricians shares the concern that "the digital world was not designed with children's healthy mental development in mind."
fight against cyberbullying
Parents acknowledge that guiding minors is becoming increasingly complex in the context of hyperconnectivity and easy access to technology. 70% of those in charge of parenting consider it a more difficult task today than it was 20 years ago, largely because of social networks and digital coexistence. Eight out of ten also believe technology companies should do more to protect minors from inappropriate content. 64% of teens say they have been exposed to hateful content on the Internet.
document Asks these companies to be transparent and share their research findings with independent experts and the public, set minimum ages for use of the platforms, and prioritize mental health and safety in the design and development of products and services. Some lawmakers and experts have said that it is important to stick to 13 years old suggested by various platforms as the minimum age to become a user. Age is taken as a guide rather than a requirement, as 40% of children between the ages of 8 and 12 in the United States use social networks.
Other analysts believe that this age should exceed 16 years. In addition, the report recommends that business leaders establish committees of scientists and experts to advise on creating safe spaces for minors online.
The 25-page report also suggests that Parents have a plan in place that establishes limits and rules for the use of the platforms and that protects personal data. The Democratic administration's most relevant health officials recommend reducing mobile phone, tablet, and computer use at least an hour before bedtime, because these electronics "interrupt sleep." Another point that has been underlined is the need to educate minors about the steps they should follow in case they are victimised. cyber-bullying and abuse via mail, text messages, online games or social networks or if they are contacted by an adult who has requested nudity or explicit photographs. Nearly six out of ten girls have been approached by strangers online who have made them feel uncomfortable. In the United States, some organizations such as cyber tipline one of two Take it below Help the victims of these cases. "Tell at least one person you trust the most if you have been a victim of abuse," said the document, apparently released to caution technology, politicians and families. Do not keep secret.
,