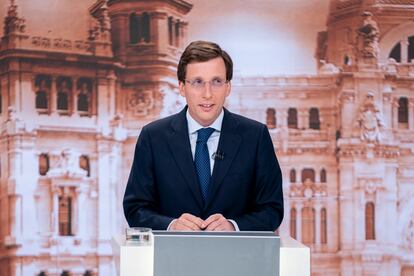 It is common that such things are done in the heat of rallies which are not fulfilled later. Voters know full well when they cast their ballots that many of the proposals they heard in the campaign would not be heard again for four years. But it is rare that they hear them once and the next time, because they were not fulfilled at that time. What is the guarantee that now, in the next four years, they will be completed? It is a matter of some points in the electoral program of the PP candidate and mayor of Madrid, José Luis Martínez Almeida, seeking re-election in 2019 with already heard star measures, not advanced during that time. when he was in office. office and today he promotes him again, 13 days before the municipal elections.
In the absence of knowing the full document, since Almeida's electoral program "will not be clear throughout the campaign", as confirmed by sources close to him, particular attention has been drawn to some of the proposals he has made in recent days Has gone. The last one, the one with trees.
Almeida last week promised to plant 500,000 trees if he won the election. Means 343 in a day. One every 20 minutes. This measure was published by him on the same day as the international economic newspaper of reference, financial Times, published a report on its pages under the title: "Trees vs. Concrete: They accuse the Mayor of Madrid of breaking the trend of green cities". Looking back at his 2019 schedule, the then-candidate was less ambitious, a minuscule one: 50,000 plantings. He does not mention the number of trees cut in the new measure – which has caused strong neighborhood protests to stop it, especially in Madrid Rio – and that a new one does not replace a mature one in its functions. Is. Because, according to the data, there were 400,739 old trees in Madrid in 2019 – those that provide shade and are more than four years old – up from 322,323 in 2023, a 20% drop in just three years.
Despite campaign promises, Madrid has lost rather than gained trees in recent years. However, Almeida claims to have planted 215,000 trees. A figure that was further bolstered by the massive deforestation caused by Hurricane Philomena for the capital. Of the trees planted by the Alameda government, 185,000 are in line with the streets and 30,000 are for the Metropolitan Forest. A spokesperson for Environment explains in the article that "the full figures across districts, and reviewed every year on the web, tell us we now have 13,000 more trees cut than in 2017."
What affects the most is the close. To never miss anything, subscribe.
subscribe
Another star measure, which the people of Madrid have heard again this year, is to reduce the IBI to the legal minimum, ie 0.4%. Since Almeida landed at Siebels in 2019, he has approved two reductions in IBI. If in 2019 it was 0.510%, now it is 0.456%. But what he promised is not achieved and he does it again.
To undercut one of the city council's main sources of income — and win over voters who own large real estate — he needed Vox's support in his 2023 budget, but he didn't have it. And nothing suggests that these controversies will not be repeated if he is re-elected. "The people of Madrid should know that they have not saved more than 130 million in taxes thanks to Ortega Smith, who refused to sit down and negotiate the budget with this government team," the mayor said in mid-April. "
Another one of the repeated promises by the mayor these days has to do with housing. In 2019, Almeida was already noticing that young people faced "difficulties" in obtaining one, according to what her first program read. For this reason, he offered to build 15,000 houses "for rent at affordable prices". To this end, he launched the Integran Rental Plan, which consisted of two programs: ReVIVA and the ConFianza Joven plan. In relation to the first, which he considered, in addition the owner transferred his house to the Municipal Housing and Land Company (EMVS), a housing bond so that the tenant would never pay more than 30% of his income. ,
But although the measure was announced with great fanfare in March 2021, two years later, only 73 households have been transferred to EMVS, of which only eight have been granted. And of those eight assists, five go to families and three are under the age of 35, which, according to the newspaper, was the candidate's aim. the plural, through requests from the Transparency Portal. For the second program, which seeks to advance deposits to people under the age of 35, only seven people have registered. In other words, the Comprehensive Rental Plan has helped 15 people since its inception two years ago.
Now, Almeida proposes to combat young people's difficulties in finding rent once again. However this time, he has proposed building 12,000 homes, of which 50% will go to young people and young families. The measure was announced to counteract the effect given to the pre-campaign launched by Prime Minister Pedro Sánchez with the announcement by PSOE to promote 50,000 social and affordable apartments from Sareb.
There were more poll promises in 2019 that went unheeded and they haven't been mentioned again this year. One of them was to build a monument to the victims of terrorism in the Plaza de Colón, "to remember those who died defending the freedom, democracy and unity of Spain," the brochure read. Four years later, and although in another minor roundabout way López de Hoyos requested a budget to complete it, this tribute to ETA's victims has yet to be done. These measures were developed as a counterweight to measures that had to do with the Law of Democratic Memory executed by Manuela Carmena when she was mayor.
In the same spirit, he also promised a tour with identification plaques for victims of terrorism on the route called Freedom Street. Not to mention that Carmena's team had already drawn up a "memory itinerary" that set out to put up plaques at all the places where terrorist attacks with deaths had occurred. The plaque mattered such that the mayor inaugurated it in honor of Pedro Antonio Blanco García, killed by ETA in 2000.
Almeida, who was general director of the Historical Heritage of the Community of Madrid between 2007 and 2011, withdrew with the support of Ciudadanos and Vox, among others. Like Largo Caballero, a plaque preserved by Heritage that was not allowed to be moved and disintegrated in a warehouse.
He then promised other things, such as expanding Bisimad. Though he has pushed almost till the end of his tenure to achieve this and has wreaked havoc integrating the old system with the new one. About 3,000 bicycles went missing from the public system on 7 March, less than a month after the new scheme came into force. In addition to a wave of complaints from users canceling service until 2099 due to errors in the system itself.
His campaign slogan in 2019 was: "We will abolish Madrid Central". But when he came to office, the measure he implemented to reduce vehicle emissions in the center of the capital was diluted so much that, in the end, some Madrileños saw a change in more than a name: the Central District. a proposal that served him to barely comply with the European regulations that Carmena had sought with his plan to reduce pollution at strategic points in the city.
Another point on the environment, water made during their management. "We will support measures to reduce air pollution," he promised. But the mayor forgot some vehicles in his charge, such as the so-called junk truck who exposed this newspaper, 53% of the cleaning fleet is old and polluting. Almeida's government did not fine the powerful companies that won the highest municipal contract (1,636 million) in 2021, despite the fact that they had to buy new vehicles.
Of the promised nursery schools, between 2019 and 2023, as recognized by the city council, only five were commissioned, which are located in Moncloa-Aravaca, Retiro, Centro, Villaverde and Vicalvaro, for a total of 502. There are places. However, only one of those five centers was of new projection and has been inaugurated this year. The other four were processed under the mayor's office of Manuela Carmena in the previous mandate. He gave up, as he published in his program, municipal land for a company to build a private subsidized school in Vikalvaro, an area where neighbors demanded more public schools. . About 23,000 square meters of land, worth 18 million euros, he ceded free of charge to the Community of Madrid led by Isabel Díaz Ayuso.
And to top up another obscure point in the brochure that seemed like a fact: The Municipal Symphonic Band is still waiting for a venue, despite a promise to inaugurate it in Pavilion 12 of the Casa de Campo.
Follow up campaign keys with newsletter election diary, And here, the latest news About this elections in madrid,