He used to wear white clothes even in the mud. She was beautiful, graceful, with the effortless smile of someone who feels beautiful. Black hair pulled back, brown eyes and hands bare without pearls and rough from factory work used to touch the skies of Paris, Cairo, Beirut or Aleppo during the fifties and sixties, when their flamenco dancer's last rattle raised her arms above the tabla to wake up the audience dancing to thunderous applause. Carmen Posada Gomez (Seville 1928-Madrid 1997) does not appear on Google. I don't even give him a nickname, Carmelite, with whom he danced around the world in an effort to fill an "envelope of happiness" that would support his family: immigrants from southern Spain who found shelter among the rubble of Vallecas. Her legacy dances in the memories of those who saw her up close, and her story, like that of her son Carlos, is the living memory of a neighborhood that was born in the mud.
"I was always far from home, but we saw the same moon. That united us," he recalls as he walks past the abandoned lot where they used to live.
Carlos Posada Gómez inherited the first three letters of his name and his two last names from his mother. "In a youthful romance, he fell in love with a very beautiful gypsy. However, she raised me alone. That and Grandmother Trini, who was not a grandmother, but a mother," explains the 75-year-old.
Carmelita was born in San Bernardo, a neighborhood near the center of Seville, next to the historic Ronda. There, years after the Spanish Civil War, she met the teacher Realito. With him she learned the secrets of flamenco dancing and singing. "But not Charisma," says Carlos. "Art has to elevate, you can't learn to be an artist," she says. Posada arrived in Madrid around 1946, on one of those old trains going north. A few months later, still as an unrecognized teenager, she entered the Minerva Theater Company, which was her great entrance to the most important stages. of the moment. On top of that, along with other artists such as Tomatoto, Lola Flores, Rafael Farina or Porrina de Badajoz, she will play the role of Glory. Beneath, reality brought him back to the shack along the dirt roads that led to the perimeter.
His brothers Guillermo, Joaquin and Paco, his mother Trinidad and her son were waiting there. It was not a dirty place, but a tiny 10-square-meter room with an unfinished, gloomy ceiling, where a nickel headboard and shiny bars added some elegance. "One part for sleeping and the other for cooking," recalls Carlos. "On rainy nights we slept sitting up on the bed, holding an umbrella so as not to get wet, with the floor full of cans and basins," he continues. "Poverty was overcome with dignity. There was never a shortage at the round table of potatoes with meat and candied eggs, "he continued. "On the other hand, chicken was eaten when possible. This is the story of Vallecas, of those of us who went to Madrid with two pairs of shoes, one for the asphalt and the other for the mud.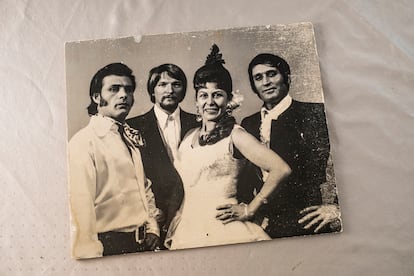 What affects the most is the close. To never miss anything, subscribe.
subscribe
When luxuries are short, brotherhood and neighborhood get-togethers are the bread to eat. "Everything was done on the road. Grandma Trini always had five bucks for anyone who asked her, and the girls looked for her because she secretly let them smoke their first cigarette. Later, when Carmelita returned from America, everyone wanted her to tell the world how it was. She used to come to Cairo and talk about alligators… No one knew what an alligator was!' Carlos explains. In the early 1970s, in exchange for 470,000 pesetas paid by Carmelita, the posadas were able to gain access to one of the houses adjacent to the vacant lot. from rags to riches". "I had never seen the palace, but it looked like Buckingham Palace to me. Suddenly he is the king of Madagascar", she comments.
Carmen Posada's only son walks the sidewalks of Antrevis collecting memories of his life. He is handsome, sharp-tongued: pointed nose, brown eyes, small mouth. He speaks slowly, with charm, the same that emanates from his perfume and his recently shaven beard. "I'm flirtatious, I'm out for Carmelita", he admitted. Upon reaching Rue de Peironcely, Carlos paused a bit, after passing in front of the famous house photographed by Robert Capa:
"Mother!" He shouts towards the sky.
"what's up baby?" answers an encouraging voice from inside the first floor.
On the other side of the partition, his wife Carmela Maldonado is waiting for him to eat some spaghetti with tomatoes. They are not married nor do they have a common law relationship. However, ever since Carlos entered the cafeteria where she worked by chance 50 years ago, they have never been apart. Dressed in a blue double-breasted railroad jacket, classic slacks, and shiny black shoes, she sat at the bar ordering a Coke. He made some of Triana's jokes with his Sevillian accent. "This Sevillana must be for me," he told her. After several attempts, Carmela agrees to join Carlos in the 600 and embark on a journey that has not lost its freshness even after five decades and leaves three children along the way: Trini, Carlos and Pili.
When they climbed the floor, poverty was left behind. He has run several restaurants in the neighborhood where he introduced a new concept of hamburger. He, for his part, was at the head of some of the most important bingo tables in Madrid such as Arturo Soria's Pegasso. Since that time he keeps some small promotional cards from the local people, on the back of which are written love poems, which he himself invented for Carmela:
my heart beats so fast
Inside my heart
that my vision is blurry
imagine so much love
Now, both as pensioners, they often walk the streets of the center, hauling a big loudspeaker to start por bularia in the busier corners and get some extra money. Tonight, they also have a performance at La Reza, a flamenco venue in the Nueva Numancia area.
rumba and heart nights
The couple steps in on their date before anyone else arrives. Today it will be screening only two songs, the main show is from Juan Lozano, a versatile heartthrob with a long career that combines music, jokes and some commentary on current affairs. Sitting on wooden chairs that surround the dance floor, Carlos and Carmela put their hands under the table like two teenagers, sip their drinks and go to the songs for the last time: he prefers a slow pace to enjoy himself. And that something is explosive. To show off your voice. Rocio, beautiful And I know you by the way you sit They are the chosen ones. When his time comes, Carlos unbuttons his white shirt and stands up without letting go of Carmela's hand. Lozano handed him the microphone. The duet will be led by him, but before beginning, they both look at a small altar where the figure of the Virgen del Rocío is enshrined:
"He's coming for you!"
Carlos, closing his eyes, also dedicates it to his mother, Carmelita, who died of cancer at the age of 69. They also hear the echo given by the speakers in the room in the bathroom one floor below. When they both raise their arms, the friends who surround them burst into applause in this flamenco redoubt in the heart of Vallecano.
Outside, in Puerto Rubio Square, the ground is no longer mud, but immigrants continue to fill it with life.
subscribe here For our daily newsletter about Madrid.
Subscribe to continue reading
read without limits