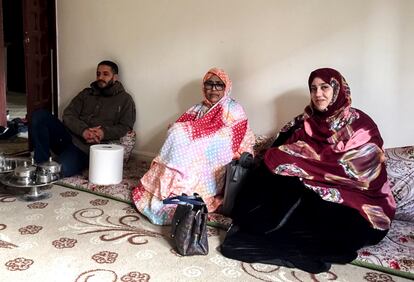 The plane lands at the airport in El Ayun, the administrative capital of Western Sahara, which is just a hundred meters from the police post. Green aircraft of the Moroccan Armed Forces and white aircraft of the United Nations are also visible. The officer behind the window, at passport control, asks this journalist why he has come.
To talk to the people about the letter that President Pedro Sanchez sent to Mohammed VI.
Sanchez confirmed in his letter that the autonomy proposal for Sahara is the most "serious, realistic and credible" basis for resolving the "gap". No president of Spain has gone so far in his approach to the Moroccan situation since the surrender of Western Sahara in 1975. With the comparative adverb "more" Pedro Sánchez rejects the self-determination referendum proposal, which the Polisario Front claims as less "serious, realistic and credible".
Whom to talk to? – asks the policeman.
Dozens of international observers, activists, journalists and European delegates succumbed to the question at El Aoun airport. He was forced to retreat 100 meters from the ladder of the plane and left without meeting anyone. On occasion, however, officials have offered all kinds of facilities to access sources, some days providing dozens of contacts who appreciate Sanchez's initiative: from representatives of women's and migrant unions to lawyers or economists. As far as. And once the reach is passed, what is believed in L'Aun is that there are wounds that are still very open, an invisible wall between the people, which stretches through the Sahara Desert for more than two thousand kilometers. moves. ,
On the one hand there are those who welcome Pedro Sanchez's letter and say that the gesture will strengthen ties between the two countries and bring stability to the region. In that part, for example, the president of the commune of L'Ayen, equal to the powers of the mayor without the local police, Hamdi Ould Erachid, 75 years. His Spanish interpreter, Falah Mohamed, 52, regrets that the conflict has led to institutions such as the Cervantes Institute that do not reside in the Sahara. And they hope that from now on they will.
The one who impresses the most is the closest. In order not to miss anything, subscribe.
to subscribe
47-year-old Sahrawi El Baihi Hamada is also in favor of the letter. He says that he was born in L'Aoun when the Spanish left the colony. His parents took him to the Tindouf camps in Algeria. He studied, like many Sahrawis, in Cuba and Venezuela. And in 2014 he decided to leave the refugee camps and come to El Aoun. "I couldn't spend my whole life in the desert," he says.
Hamada explains that Tindouf first had tents, then adobe and now they make concrete. "And I don't want that. I have returned to where I was born. My father and my mother died there and I could not attend the funeral because I am a traitor to the Polisario Front. I like to come here and express myself freely. I cannot claim my rights from Algeria in someone else's house."
To supporters of the Polisario Front in El Ayon, Hamada is merely a traitor. And he has accepted it. "But who have I deceived that I never had a position in the organization?"
Among the happy supporters of Sanchez's letter are three Cordoba businessmen, who were chatting in the courtyard of the El Masira Hotel (La Marcha in Arabic) this Friday afternoon. He is a manufacturer of glass. They have been in talks with the Moroccan side for six months, they landed the day before and they have just closed a contract. Both do not want to reveal their names. "Sahara is a land of opportunities", says one of them, "and we have only two or three hours from Spain. King Mohammed VI is investing here and he is going to make the biggest investment. We are amazed at how much they are spending on education and training. He holds a degree in Renewable Energy. It is going to experience tremendous growth. And I want to be here when that happens."
They say they do not understand why there are not many Spanish companies in Sahara. "They have taken us to an industrial area where no one enters and we have seen companies from the United States, French, Polish… but none from Spain. And they all have advantages. I'm not in favor of Pedro Sanchez at all, but I think he made the right decision.
On the other side of the Invisible Wall in the same city of El Ayoun are supporters of the Polisario Front. Some of them meet in the living room of a house to give their testimony. They don't mind telling their names and taking pictures. An hour later, one of them appears with a camera with which he has recorded a man standing in a car in the corner. "They're always watching us," he says.
Among these activists are people like 63-year-old Fatimato Dahour, who was in prison between 1975 and 1991, who assures that Sahara is experiencing an apartheid regime, where Saharawis are discriminated against in jobs. He added that all Spanish governments have always been on the side of Morocco; He assured that Spain was first responsible for the suffering of the Saharawis and called on Spanish civil society to "pressure Sanchez". Dhouar is covered with the flag of the Sahrawi Arab Democratic Republic "If you want an example of how life is lived here, get out on the street with me. I will carry this flag and you will see what they do."
Next to Dahour sits 32-year-old Hayat Khattri, who says: "Each one of us is paying a price for our struggle, for the resistance. In every family there is a victim, a martyr, a missing person." Mohamed Mayara, 47, says his father died in prison when he was two months old. And that Famatou Dahour saw it. Remember that he is of the same age as Struggle. When asked about the development that Western Sahara has experienced in those 47 years, Mayara replies: "Development? I know how Morocco promotes itself. But there are no universities here, to get to the hospital we have to go to Agadir, 700 kilometers away. They are building a highway to the north to accelerate the systematic plundering of our resources. Imagine that Russia now tells Ukrainians, calm down, that they are going to develop the country. Bachir Amedan, 33, said the war in Ukraine exposed Spain's hypocrisy.
Activist Samudi Hanan, 36, says: "Morocco has allowed you to come to El Ayon and interview us to do the makeup. But we have counted 500 such people who were not allowed to come in the last eight years.
Mohamed Mayara says that Western Sahara's problem is not one of human rights, but of "liberation from colonialism". "Moroccans believe that most people are in favor of autonomy. So why do they refuse to hold a self-determination referendum?
The same question was posed to twenty tribal chiefs in El Ayon, on the other side of the Invisible Wall. The chiefs or shiuks have the power of representation in the Sahara controlled by Morocco. One of them, 60-year-old Hassan al-Radrisi, replied: "It was Hassan II who proposed the plebiscite. But the other party rejected many of our clan. And now, most of the people of Tindouf are no longer from our clans. We cannot accept them."
Abdeltif Bera, 61, one of the tribal leaders says: "The other party is our brothers and we respect them. But they also do not represent 15% of the residents of the southern provinces. Historically we are part of Morocco, freedom has been denied to us. Sanchez has only recognized what the reality of the region is."
You only have to pass through the invisible wall of El Ayon to hear the completely opposite argument, such as Hamma Yahdih, a 61-year-old activist known as El Kotb: "Many of those tribal leaders had some in 1975. Wasn't either. They talk like this because they eat from Morocco. And if they express themselves in another way, they will be like us, all unemployed".
"We Sahrawi", concludes Kotb, "will not rest until we vote in a self-determination referendum. We can decide about our future. Pedro Sanchez can't sell what's never been his".
With this mass of dissent, mistrust and doubt, the invisible wall has been erected. And at the moment it is as inaccessible as in the desert.
Unsolved murder in interference
Dakhla, Western Sahara's southernmost city, experienced protests last February like they hadn't seen in years. Saharawi merchant Lehbib Arrichi disappeared as he was leaving his shop with a briefcase worth 800,000 dirhams, about 80,000 euros. The police named a friend of Arrichi as a suspect the next day and he was found dead and naked hours after leaving the police station on a city beach.
For two weeks hundreds of Sahrawis demonstrated at the center of Dakhla. The family suspects that the police is hiding something. A European businessman living in Dakhla who spoke on condition of anonymity says: "The situation in this city is deteriorating. There is a lot of drug abuse and smuggling here. You can see the money flowing in… and suddenly someone builds an impressive chalet and the neighbor tells you he is dedicated to drugs".
Exclusive content for customers
read without limits