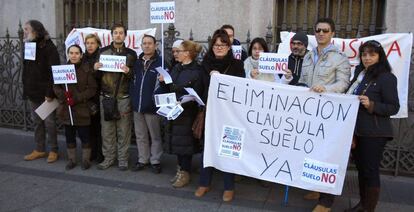 The headline figure is the percentage of sentences that condemned the bank for bad practices issued by special courts in abusive sections during 2021. The data was recently provided by the General Council of the Judiciary. Last year, 123,938 sentences were issued in this case. A figure similar to previous years. In 2020, 97,454 rules were issued, of which 97.9% were customer friendly. In 2019 and 2018, special courts pronounced 117,474 and 71,962 sentences, respectively, and banking convicts represented 96.9% and 96.7%, respectively.
In short, since they were launched in June 2017, special courts have received 713,129 lawsuits and issued 420,154 sentences, of which 97.4% are guilty of banking. These courts adjudicate matters related to mortgage eviction, floor clause, default interest, mortgage formation expense and multi-currency. 212,969 claims are pending. Tremendous figures.
Citizens themselves go to court after an exhausting pilgrimage of claims before the institutions. ASUFIN, a union of financial users, has produced a report that concludes that "it takes two years for lawsuits to be accepted for processing in the main specialized courts." It specifies that A Corua cases take 729 days to be admitted for processing; In Madrid and Barcelona, ​​722 and 706 days respectively. The association states that after admission for processing, one will have to wait another three years to decide the first instance, which banks usually appeal, so another year or two will be added. In short, according to this unit, "generally in 90% of cases, the waiting time for a consumer-friendly final decision is more than five years".
Lawyer Eugenio Ribon, president of the Spanish Association of Consumer Law, reports an annulment claim filed in 2021 after the bank has previously claimed: they have been informed of a preliminary hearing for September 28, 2026.
The described scenario shows a worrying distortion of justice. Asking citizens to go to court to enforce their rights, knowing they will be found right in 97% of cases, has little to do with good faith. It considers unfair use of justice and waste of money which has meant the creation of 54 courts, 20 of which ceased their functions last December.
Economist Amartya Sen, who received the Bank of Sweden Prize in Economic Sciences, better known as the Nobel Prize in Economics, wrote in 1998 idea of ​​justice In 2009, (Taurus): "Justice lies not only in achieving, or dreaming of, a perfectly just society or social plans, but in avoiding manifest injustice". It is clear that with banks we are facing a clear injustice that affects lakhs of citizens.
He knows all the sides of the coin deeply.
to subscribe
Exclusive content for customers
read without limits